An MTConnect Data Viewer is one of DataXchange's many new features
La Mesa, CA (November 22nd, 2016) - Shop Floor Automations, an authorized reseller of Scytec's DataXchange, is very excited about the changes that the shop floor software is undergoing. With the latest Version 2016.10.03 updates, there are many features to enjoy.

New features include an MTConnect Data Viewer, which is a testament to DataXchange's continuing advocacy of the protocol. Making the software more compatible with MTConnect will help more shops to realize how crucial the protocol is for the ever-changing manufacturing industry.
Along with the latest new features, Scytec support staff will now be able to remotely restart DataXchange services. This can help immensely when remote access to the server is not an option.
The Real-Time Viewer has been updated, adding the ability to copy RTV screens to groups or users, as well as new reports and charts like Operation Time, plus the OEE Equipment Summary and Grid. For additional security, Scytec has also added a UI option to change whether the service runs over http or https. In an effort to prevent future mistakes, you can no longer delete a plant with equipment that has been assigned to it.
As far as existing features, many have been updated or improved. A line has been added in the Target Utilization per period chart that represents the average for each of the machines. Performance when using some of the forms has been improved, which includes the Equipment form.
This software update includes a number of bug fixes, as well. Labels on the Metric Definitions page have been fixed to properly reflect the calculations being used. Also, sorting by equipment filter for particular charts and reports has been improved.
Enjoy easier removal of machines from the RTV, plus your saved utilization charts should now return data. Managing user report group memberships should be smoother, and the Auto Login should work in iOS.
Want more information on the changes to DataXchange and how the Software can help your shop floor? Contact Shop Floor Automations at (877) 611-5825 or visit www.ShopFloorAutomations.com
Featured Product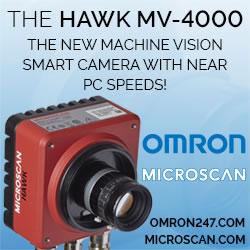 Awe-inspiring power and superior flexibility is sheathed within the contoured casing of the HAWK MV-4000. This smart camera builds upon the previous generation by quadrupling processing power and achieving real-time trigger response using an FPGA. Its state-of-the-art algorithms make it an excellent tool for any industry, whether the requirement be code reading, code verification, inspection, guidance, gauging or a combination of all four.