Beijer Electronics is proud to present the new X2 motion panel family with integrated CODESYS motion and control.
The X2 motion family

X2 motion panels deliver intuitive HMI with integrated CODESYS motion and PLC functionality in the same compact hardware. Panels range from ultra-compact 4-inch to 15-inch panels designed for demanding applications. Our lean yet powerful hardware with super-fast EtherCAT communication provides the speed you want with the stability you need.
Strong. Stylish. Smart.
The X2 motion family is part of the new X2 panel series, the next generation of HMIs from Beijer Electronics. The X2 series include six product families combining great design with strong performance to power your HMI solutions. Create smart integrated solutions boosted by iX HMI software and WARP Engineering Studio.
Integrated CODESYS motion and control
Applications remain elegantly slim with integrated CODESYS motion and PLC functionality in the
panel. CODESYS runs on dedicated CPU cores in dual or quad core ARM Cortex-A9 processors for safe and fast program execution. Panels have two built-in Ethernet ports as standard for communication with third party equipment. Connect directly to a BSD servo drive, add remote I/Os and you get an elegant, scalable, cost-effective solution.
Prepared for any environment
X2 motion panels operate in wide temperature ranges of -10°C to +60°C. The panels offer strong IP65 and NEMA 4 ingress protection for any industrial environment. The X2 motion range hold all the certificates needed to perform in the field by UL, CE, FCC and KCC certification and extended classes of marine certifications.
Smart integrated solutions
X2 motion panels can be used straight away with the standard version of iX HMI software and the
new WARP Engineering Studio. iX combines top-class graphics and smart functions that provide
intuitive operation and almost limitless connectivity. Use WARP engineering Studio to create
integrated automation solutions faster, better and easier than ever before.
Contact:
Axel Gustafson, Product Manager HMI Hardware, +46 40 35 84 36, axel.gustafson@beijerelectronics.com
Jeff Hayes, Product Manager - Americas, +1 801 466 8770, jeff.hayes@beijerinc.com
About Beijer Electronics
Beijer Electronics is a high technology company active in industrial automation and data communication. The company develops and markets competitive products and solutions that focus on the user. Since its start-up in 1981, Beijer Electronics has evolved into a multinational group with sales of US$160 million (1,375 MSEK) 2015. The company is listed on the NASDAQ OMX Nordic Stockholm Small Cap list under the ticker BELE. http://www.beijerelectronics.com
Featured Product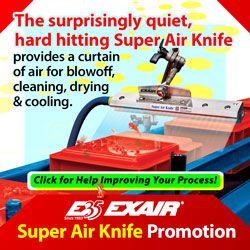 What Is The Super Ion Air Knife? EXAIR's Super Ion Air Knife removes static electricity from plastics, webs, sheet stock and other product surfaces where tearing, jamming or hazardous shocks are a problem. The laminar sheet of air sweeps surfaces clean of static, particulate, dust and dirt. Production speeds, product quality, and surface cleanliness can improve dramatically. Why The Super Ion Air Knife? The Super Ion Air Knife floods an area or surface with static eliminating ions - up to 20 feet (6.1m) away. A uniform airflow across its length will not cause misalignments to critical surfaces such as webs. Force can be adjusted from a "blast" to a "breeze". The Super Ion Air Knife is electrically powered, is shockless and has no moving parts. It also requires only 3.7 SCFM of compressed air per foot of length at 5 PSIG (105 SLPM per 300mm of length at 0.3 BAR). Sound level is surprisingly quiet at 50 dBA for most applications.