Wexxar developed WISE to support todays diverse workforce and give them the tools necessary to achieve highest overall equipment effectiveness. The company also showcases a semi-automatic case former/hand pack station for wash down environments. (Wexxar/BEL Booth # S-3742)
At Pack Expo in Chicago, November 6-9, Wexxar/BEL, powered by Pro Mach, features WISE, a comprehensive reimagining of how todays diverse workforce interacts with Wexxar/Bel equipment to achieve highest overall equipment effectiveness (OEE). WISE focuses on: More intuitive user control, onboard machine tuning, visual indication of alarm locations, on-machine troubleshooting, and in-depth changeover guidelines. (Wexxar/BEL Booth # S-3742)

One of the most innovative features of WISE involves QR bar codes placed at key locations on a machine. Scanning the QR bar code with a smart phone or tablet will connect the operator or maintenance person with the most up-to-date information on maintenance procedures, troubleshooting, and adjustments for the section of the machine covered by that QR bar code. This approach utilizes the power of the cloud to deliver current and evolving information, including video, without the hassle or potential security risk of networking the machine to the internet.
Wexxar will also showcase at Pack Expo a stainless steel BEL 505 semi-automatic case former/hand pack station and BEL 150 pressure sensitive case sealer combination at Pack Expo. This combination allows one operator to form, pack, and seal corrugated cases quickly and effectively. Stainless steel construction is ideal for wash down and other harsh environments.
For more information about Wexxars full line of case erecting and sealing machinery, call 604-930-9300 and visit http://www.Wexxar.com. Be sure to stop by the Wexxar/BEL at Pack Expo, Booth S-3742.
About Wexxar/BEL
Wexxar/BEL is a leading manufacturer of high quality systems for case forming and sealing for the most demanding packaging operations. Wexxar and BEL products yield the lowest cost of ownership through greater dependability, higher productivity, maximum throughput, and a high standard of safety. Wexxar/BEL is headquartered in Richmond, British Columbia, Canada. For more information, visit http://www.Wexxar.com.
About Pro Mach
Pro Mach is a leading provider of integrated packaging and processing products and solutions for food, beverage, consumer goods, pharmaceutical, and other diverse companies. Through multiple brands, Pro Mach provides product packaging and processing equipment, PMMI certified trainers, installation, parts, and service in Bottling & Capping, Primary Packaging, Pharmaceutical Packaging, Flexible Packaging, Material Handling, Labeling & Coding, and End of Line, as well as Integrated Solutions for complete packaging lines.
Pro Mach has a diverse customer base, from Fortune 500 companies to smaller, privately held businesses worldwide, which depend on reliable, flexible, technologically advanced equipment and integrated solutions. Pro Mach is headquartered near Cincinnati, Ohio, with manufacturing facilities and offices throughout the United States, Canada, Mexico, Europe, United Arab Emirates, and China. For more information about Pro Mach, please visit http://www.ProMachInc.com.
Featured Product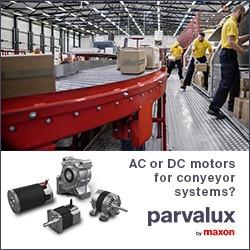 This GB56 right-angled, coupling driven gearbox from Parvalux packs a powerful punch in a small package. A width of 39mm and an output torque of 50 Nm in short-term operation. Ideal for applications where space is at a premium.