The Festo "Motion with a Purpose" exhibit features solutions that enhance flexibility and shorten time to market. (Festo Pack Expo Booth # N-5347)
At Pack Expo in Chicago, November 6-9, Festo features the largest and most comprehensive "Motion with a Purpose" exhibit in the companys more than 40-year history. Festo showcases automated electromechanical and pneumatic positioning components, subassemblies, and advanced systems that enable smaller lot sizes and greater customization in the packaging and food processing industries. (Festo Pack Expo Booth # N-5347)

Format setting
Festo introduces the new EMCA, a compact integrated positioning drive optimized for automated format setting. The EMCA positioning drive integrates a maintenance-free and wear-resistant brushless DC motor with power and control electronics. Original equipment manufacturers (OEMs) can daisy chain multiple units together throughout the machine. To enable direct installation on the machine, Festo offers a standard IP54 motor housing, with an IP65 housing available as an option.
Festo also introduces, and demonstrates a new drop-in modular pneumatic system for fast, low cost, and accurate format setting. This new system features an integrated PLC that controls up to eight different actuators, each with independently adjustable set points. This solution is suitable for retrofitting - revitalizing a machine - and new installations. No machine integration is required. OEMs simply supply 24 VDC and compressed air and the pneumatic format setting system is ready for set up. Typical return on investment is three to four times faster than solutions now on the market.
Additional solutions for greater flexibility
Festo showcases the new Multi-Carrier System, an Industry 4.0-based flexible transport system for filling and packing applications. Co-developed with Siemens, the Multi-Carrier System is ideal for mass customization and for contract manufacturers producing varied batch sizes (small and large) of different products. Brenton Engineer, a Pro Mach company, Booth # S-3738, features the Multi-Carrier System in its compact medical device form fill seal case packing/palletizing solution on display at the show.
Festo also features its EXCT high speed T-gantry with twice the flexibility of gripping due to a variable pitch slide module. This X-Z axes positioning subassembly saves OEMs consideral design and manufacturing time. It can be specified as a fully assembled drop in unit. For food processing applications, Festo displays valve subassemblies and modules that, like its packaging solutions, supports flexible manufacturing and faster time to market. A clean in place solution is in the booth as an active display. At the "Motion with a Purpose" exhibit Pack Expo attendees will also find information on compressed air quality systems, vacuum systems, standard and custom grippers, electric linear axes with the versatile ELGA toothed belt axis feature, Industry 4.0 highlights, overall equipment effectiveness (OEE) components, simple and flexible fieldbus connectivity, and more.
Visitors to the exhibit can sign up to receive free samples from the companys newest generation of pneumatic valves, the VUVS and VUVG. These valves represent a new platform for Festo. Each features the latest materials, construction, and functionality in a rugged, low cost package.
Productivity tools
The companys industry leading productivity tools for OEMs and end users will be demonstrated in the exhibits presentation area throughout Pack Expo. These tools shorten the design and specification process, facilitate trouble free installation, and assure that identical custom components and subassemblies will be available to OEM customers and end user plants globally. Daily presentations will be held at:
10 a.m. - PositioningDrives: Specify the optimum drive for the application without having to know individual Festo products
11 a.m. and 2 p.m. - Handling Guide Online: Design a custom gantry system in 20 minutes
12 p.m. and 3 p.m. - Festo Mobile App: The Festo catalog, full technical documentation, and more available 24/7 from any mobile device
1 p.m. - Online Shop/CAD/QuickSearch: Tools for specifying the right components and systems quickly and effectively with CAD drawings immediately downloadable
21st Century mechatronic training
Festo Didactic, one of the worlds leading providers of mechatronic training, will be in the Motion with a Purpose exhibit. The Festo Didactic product and service portfolio offers customers holistic education solutions for all areas of manufacturing technology and process automation, such as pneumatics, hydraulics, electrical engineering, production technology, mechanical engineering, mechatronics, CNC, HVAC, and telecommunications.
Festo participation with OPC Foundation and OMAC on display at Pack Expo
Festo displays components in the OPC Foundation Booth # N-4702, demonstrating OPC-UA communication in a multi-vendor demo. Festo also participates in the multi-vendor display showcasing the implementation of PACK ML at the OMAC Booth # N-4800. Both demos highlight the communication platforms to facilitate machine to machine communication as well as communication through the enterprise, enabling Industry 4.0 concepts.
Stop by the Festo Motion with a Purpose exhibit # N-5347. For more information on Festo products, call 800-993-3786 and visit http://www.festo.us.
###
About Festo
Festo is a leading manufacturer of pneumatic and electromechanical systems, components, and controls for process and industrial automation. For more than 40 years, Festo Corporation has continuously elevated the state of manufacturing with innovations and optimized motion control solutions that deliver higher performing, more profitable automated manufacturing and processing equipment.
Connect with Festo: Facebook, LinkedIn, Twitter and YouTube.
Featured Product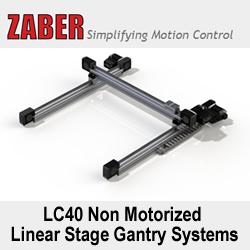 A Zaber gantry kit comes with everything you need to build a customized XY gantry system or XYZ gantry system. These gantry systems feature coordinated multi-axis motion, plug-and-play operation, easy integration with end-effector options, and built-in IO and E-Stop capabilities. An intuitive ASCII interface allows the user to easily communicate with the gantry systems using our free software, either Zaber Motion Library with APIs for several popular languages or Zaber Console. Third party terminal programs that can communicate over a serial port can also be used.