System Insights, a provider of cloud based and on-premise predictive analytics software for manufacturing intelligence joins Partners in THINC.
Okuma America Corporation, a world-leader in CNC machine tools announces that System Insights Inc. is the newest member to join Partners in THINC. System Insights provides technology for Smart Factory, Industry 4.0, and IIoT client initiatives.

They are a leader in providing technology to connect assets that monitor, analyze, and optimize the factory floor for improved operational performance.
VIMANA by System Insights securely connects to factory assets using MTConnect and OPC UA. It enriches and analyzes machine data to provide real-time visibility and actionable insights for improved control over operations. VIMANA integrates with mission critical systems to optimize processes to improve productivity, maximize asset performance, and reduce resource consumption.
"The partnership with Okuma offers a strategic opportunity for System Insights to provide customers increased asset connectivity, an enriched data set with context about the manufacturing process, and analytics for insight, so plants can improve asset efficiency, automate process and improve profit," said Rick Moran, president and chief executive officer, System Insights.
"Partners in THINC is delighted to have System Insights as a partner. Their predictive analytics software connects securely to a large variety of vendor assets making it easy for customers to obtain real time manufacturing data to improve CNC machining efficiency and productivity," said Jeff Estes, director, Partners in THINC.
Members of Partners in THINC provide superior technologies that are integrated with Okumas CNC machines and controls to deliver advanced manufacturing system solutions.
For more information on System Insights, and other members of Partners in THINC, visit http://www.okuma.com/partners-in-thinc.
About Okuma America Corporation
Okuma America Corporation is the U.S.-based sales and service affiliate of Okuma Corporation, a world leader in CNC (computer numeric control) machine tools, founded in 1898 in Nagoya, Japan. The company is the industrys only single-source provider, with the CNC machine, drive, motors, encoders, and spindle all manufactured by Okuma. The company also designs their own CNC controls to integrate seamlessly with each machine tools functionality. In 2014 Okuma launched the Okuma App Store, the industrys only centralized online marketplace for machine tool apps and related content. Along with its extensive distribution network (largest in the Americas), and Partners in THINC, Okuma is committed to helping users gain competitive advantage through the open possibilities of machine tools, today and into the future. For more information, visit http://www.okuma.com/americas or follow us on Facebook or Twitter @OkumaAmerica.
Partners in THINC
Partners in THINC is a collaboration network of more than 40 industry leaders who come together to solve problems and explore new productivity ideas for real-world manufacturers. With the open architecture, PC-based OSP control as its nucleus, Partners in THINC brings specialized equipment, expertise and a commitment to provide the best possible integrated solutions to the end-user. For more information, visit http://www.okuma.com/partners-in-thinc.
System Insights
System Insights is transforming how industrial companies operate plants and deliver products. We help our customers gain real-time visibility and control of their manufacturing operations to improve productivity, maximize asset performance, reduce resource consumption and boost profits. System Insights technology fuels Industry 4.0, IIoT and Smart Factory client initiatives. VIMANA by System Insights is the leading cloud-based and on-premise predictive analytics platform for manufacturing intelligence. VIMANA securely connects to multi-vendor and legacy factory assets using MTConnect and OPC-UA standards. Our software captures, enriches and analyzes vast volumes of machine data, generating metrics and insight to help customers accelerate cycle times, minimize scrap, and reduce production costs. System Insights collaborates with a robust partner ecosystem, from machine tool and controller technology manufacturers, to factory automation systems and mission critical enterprise software providers. We are recognized as industry thought leaders and are contributing partners to the MTConnect Institute. Committed to the future of manufacturing, we collaborate closely with DMDII (Digital Manufacturing and Design Innovation Institute), NIST (National Institute of Standards and Technology), and IIC (Industrial Internet Consortium).
Featured Product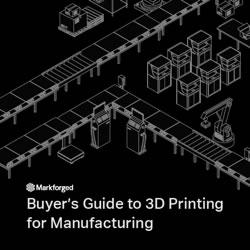 3D printing has become a powerful force in today's manufacturing industry from prototyping to tooling and fixtures to custom, end-use parts. Many businesses struggle to find the right solutions to fit their needs and provide ROI. Selecting the right platform to prevent manufacturing roadblocks is vital to optimizing your manufacturing line productivity. Download the all new buyer's guide to help you evaluate the benefits of 3D printing and dispel misconceptions, understand the pros/cons of various 3D printing processes and materials, and assess the key considerations in selecting a 3D printer.