The result of a collaboration among several companies with expertise in toolholding, cutting tools, machining dynamics and distribution, Velocity SMART Tool™ products will enhance digital manufacturing for users of Okuma CNC machining centers with the Okuma OSP-P control.
Velocity Products, a division of Morris Group, Inc., introduced Velocity SMART Tool ™ at IMTS 2016. The first intelligent toolholder assembly of its kind, Velocity SMART Tool is a collaboration of four U.S. suppliers: Velocity Products, Briney Tooling Systems, BlueSwarf and Fullerton Tool.

Designed exclusively for Okuma machining centers, Velocity SMART Tools are fully assembled, balanced, preset and ready to run. The BlueSwarf DashboardTM is included and allows machining at maximum speeds, feeds and cutting depths for a specific operation or part on an Okuma machining center.
Known as Velocity/Briney within the Okuma Partners in THINC program, the partnering companies responsible for bringing Velocity SMART Tool to market believe that this new product doubles tool life, allows for double the cutting speed and can reduce overall costs by half.
"Velocity/Briney works closely with Okuma and its distributor network to deliver products that are designed, tuned and optimized for specific Okuma machining center models. Combined, our areas of expertise in toolholding, cutting tools, and machining dynamics enable us to produce the highest quality, complete intelligent toolholder assemblies. Our singular focus makes us uniquely qualified to help Okuma customers maximize return on investments in technology," said Robert L. Bauer, Vice President, Morris Group, Inc. and head of its Velocity Products division.
Brad Morris, President and CEO of Morris Group, Inc., kicked off the morning press conference where Velocity SMART Tool was formally introduced. In attendance were members of the industry press, members of the Okuma distribution network, representatives from Okuma and key people from the Velocity SMART Tool partner companies. From BlueSwarf, co-founders and inventors, Dr. Tom Delio and Dave Barton, were present. Patrick Curry, President of Fullerton Tool, and Tony Trecapelli, Executive Vice President of the Gemini Group, parent company of Briney Tooling Systems, also participated in the press conference.
About Velocity Products
Velocity Products (http://www.velocityproducts.com) of Huntsville, Alabama is an independently operated business unit of Morris Group, Inc. Velocity Products markets tooling and machine tool accessories throughout North America. It is the exclusive North American importer of Velocity SU-matic tooling for Okuma lathes, multitasking machines, and machining centers.
About Morris Group, Inc.
Morris Group, Inc. (http://www.morrisgroupinc.com), one of North Americas largest machine tool supply networks, owns fourteen independently operated business units. It supplies CNC machine tools and related technology and services to manufacturers representing virtually every industry segment. Morris Group, Inc. is headquartered in Windsor, Connecticut, home of its founding company, The Robert E. Morris Company, which has served the manufacturing industry since 1941.
About Velocity/Briney
Velocity/Briney is a joint Partner in THINC consisting of two U.S. companies: Velocity Products and Briney Tooling Systems. Velocity/Briney produces and distributes Velocity SMART Tool ™, the only intelligent toolholder system made exclusively for Okuma machining centers. Velocity SMART Tool is a collaboration of four U.S companies: Velocity Products, Briney Tooling Systems, BlueSwarf and Fullerton Tool. Velocity Products of Huntsville, Alabama, a division of Morris Group, Inc., serves as the marketing and sales face of Velocity/Briney.
Featured Product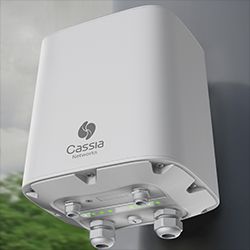 Cassia works with smart IIoT equipment manufacturers to help them overcome their challenges and to provide the competitive edge they need to reach their business goals. We provide companies in various IIoT sectors with a comprehensive suite of enterprise Bluetooth IoT products and solutions they need to enable smart IIoT solutions such as Condition Monitoring, Predictive Maintenance as well as Personnel and Asset Tracking solutions. Cassia's long-range Bluetooth gateways are uniquely designed for today's Industrial IoT enterprises to provide the scalability, flexibility and ease of deployment needed to reduce costs and achieve greater ROI.