Out of 643 nominees, Compass Automation of Elgin, IL has been selected as one of the Top 100 Finalists still in the running for the 15th annual Chicago Innovation Awards.
Chicago, IL— Out of 643 nominees, Compass Automation of Elgin, IL has been selected as one of the Top 100 Finalists still in the running for the 15th annual Chicago Innovation Awards. The awards celebrate the most innovative new products and services in the Chicago region across all organization sizes, sectors and industries. 1500 business and civic leaders will come together to honor the winners when they are announced on October 25th at Chicagos Harris Theater.

The innovation nominated is Compass Automations Agile Engineering Methodology. Compass president, Brian Greviskes explains: "The fundamental difference between an agile project and a traditional project is the execution of the mechanical engineering phase. We break the machine into multiple testable modules or stations. These modules are representative of the stations that will be included in the final system (in many instances, we can drop a completed module directly into the final system). We design the modules, build them, and test them.
When required, we redesign, rebuild, and retest, iterating until the module meets all design requirements, and we are satisfied that the concept will work well in the final system.
We do it to mitigate overall project risk and deliver more successful machines; and it works."
For a video explanation click here: https://www.youtube.com/watch?v=3kX7fgT8jUk
"What I love about Chicago is its breadth of innovation," said Tom Kuczmarski, co-founder with Chicago journalist Dan Miller of the awards. "This years nominees prove that innovation is taking place in both large companies and small, across industries, for-profit and non-profit, high tech and low tech. These risk-takers and visionaries are at the forefront of solving all kinds of unmet needs in the marketplace."
As one of the Top 100 Finalists, Compass Automation will receive a $2,500 scholarship to attend The Practical Innovator, a day-long executive education course on September 29th led by top faculty who teach innovation at Northwesterns Kellogg School of Management.
Each of the Top 100 Finalists is also in the running for the annual "Peoples Choice Award," selected through online balloting at http://www.chicagoinnovationawards.com/2016-peoples-choice-award-2/.
Out of the Top 100 Finalists, the judges will select 10 winners of the Chicago Innovation Awards, as well as 10 winners of the Up-and-Comer Awards representing innovation in the start-up community, the Social Innovator Award, the Collaboration Award, and 3 new Neighborhood Award winners, which will showcase innovation occurring in Chicagos diverse neighborhoods. The winners will be invited to ring the NASDAQ Bell in New York City, invited to separate meetings with Mayor Rahm Emanuel, Governor Bruce Rauner and Cook Count President Toni Preckwinkle, and receive widespread media recognition.
Featured Product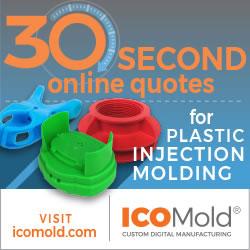 ICOMold provides plastic injection molding, CNC machining of plastic and metal, and urethane casting to customers worldwide in a variety of industries. We offer low-cost, high-quality custom plastic parts manufactured to your design, with a very fast turnaround. Any quantities from single prototypes to large, on-demand production runs. We are ISO 9001:2015 certified, and our production molds carry a lifetime warranty. Get an online quote in less than 30 seconds with our interactive quotation system.