What Design Engineers Need to Know to Develop Secure Networked and Web-Connected Equipment
Icon Labs (www.iconlabs.com), a leading provider of security solutions for IoT and embedded devices, today announced a new resource for embedded designers working with Internet of Things (IoT) applications: a white paper focusing on "Device Security for the IIoT". Developed with Renesas Electronics America Inc. (www.renesas.com), a premier supplier of advanced semiconductor solutions, as a deep-dive guide for design engineers developing networked and web-connected equipment and solutions, the white paper outlines security requirements for Industrial Internet of Things (IIoT) devices and software solutions that are available today for securing these devices.

The IIoT is driving investment in new technology and manufacturing methodologies as companies rush to capitalize on a predicted trillions of dollars of economic gain. Unfortunately, traditional security solutions do not scale down to support the RTOS-based devices that make up the bulk of the IIoT. New solutions and approaches are required for these systems that perform critical functions in factories, the electric grid, transportation infrastructure, and other industrial segments.
"It is critical for system engineers to address security issues at every layer, from the sensors and actuators, to the controllers and the connected operations and business systems," said Julian Psaila, Director, Marketing, General Purpose Unit, at Renesas Electronics America. "Although traditional IT-endpoint security and network-monitoring solutions protect IT business applications, such solutions wont work for the embedded devices closest to the physical systems, which must be protected against cyberattacks by integrating security directly into the devices themselves."
"Minimizing vulnerabilities requires specialized security software," said Alan Grau, CEO of Icon Labs. "To support enterprise security standards, embedded devices must incorporate the following key features: secure boot code, secure application updates, tightly controlled authentications, and secure communication protocols."
The white paper covers new IIoT security platforms, as well as access control, security protocols, asymmetric and symmetric encryption, hardware security modules, intrusion detection, secure boot, secure firmware update, Data at Rest (DAR) Protection, and security management & visibility.
Icon Labs Floodgate Security Framework
Icon Labs and Renesas Electronics have collaborated to develop a secure platform for both IIoT and IoT applications. Icon Labs Floodgate Security Framework modules, such as their Floodgate Secure Boot, Firewall, crypto libraries and more, have now been integrated into the Renesas Synergy™ Platform leveraging its hardware security features, as well as on the Renesas R-IN32 industrial network ASSP.
Renesas Solutions for the IIoT
Renesas develops advanced semiconductor solutions for IIoT applications that integrate hardware accelerators to improve network performance and RTOS operation. The devices also feature built-in security in hardware to create a trusted subsystem. The Renesas Synergy Platform provides featured solutions with its new security approach to the IoT space as discussed in the white paper. Other Renesas solutions for the IIoT include the R-IN32M3 platform for industrial networking and the RZ/T1 real-time processor.
The white paper is now available here at Device Security for the IIoT.
About Icon Laboratories, Inc.
Icon Labs, a 2014 Gartner "Cool Vendor" and 2015 Gartner "Select Vendor", is a leading provider of security solutions for IoT and embedded devices, including the award-winning Floodgate Defender and Floodgate Security Framework. Founded in 1992, Icon Labs is headquartered in West Des Moines, Iowa. For more information, visit www.iconlabs.com.
Featured Product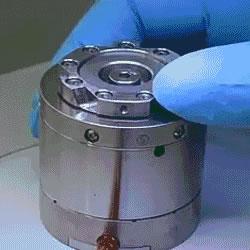 Hexapod micro-motion 6-axis platforms are based on a very flexible concept that can easily solve complex motion and alignment problems in fields including Optics, Photonics, Precision Automation, Automotive, and Medical Engineering.