New UL 2900-2-2 Standard Offers Testable Cybersecurity Criteria for Network-Connectable Factory Automation and Industrial Control Products & Systems
NORTHBROOK, Ill., Sep 2, 2016 — UL a global safety science organization, announces its new Cybersecurity Assurance Program (UL CAP) for industrial control systems. Using the new UL 2900-2-2 Standard, UL CAP for industrial control systems offers testable cybersecurity criteria to help assess software vulnerabilities and weaknesses, minimize exploitation, address known malware, review security controls and increase security awareness. UL CAP is for control system manufacturers looking for trusted support in assessing security risks while they continue to focus on product innovation to help build safer, more secure products, as well as for OEMs, machine tool builders, system integrators, and retrofitters who want to mitigate risks by sourcing products assessed by a trusted third party.

The Industrial Internet of Things (IIoT), Industry 4.0, is enabling more sophisticated capabilities through network-connected products and systems. As a result, industrial control systems are becoming more interconnected, connectable and networkable. The security, performance and financial risks impacting industrial control systems globally are the key drivers to develop new safeguards in an ever-changing security threat landscape faced with growing risks.
"Were aiming to support and underpin the innovative, rapidly iterating technologies that make up the IIoT with a security program," said Rachna Stegall, Director of Connected Technologies at UL. "The more industrial control systems become interconnected with other devices, the greater the potential security risks. The Cybersecurity Assurance Programs purpose is to help manufacturers, purchasers and end-users, both public and private, mitigate those risks via methodical risk assessments and evaluations."
The new UL CAP was developed with input from major stakeholders representing the U.S. Federal government, academia and industry to elevate the security measures deployed in the critical infrastructure supply chain. The White House recently released the Cybersecurity National Action Plan (CNAP), designed to enhance cybersecurity capabilities within the US government and across the country. ULs CAP services and software security efforts were recognized within the CNAP as a way to test and certify network-connectable devices within the Internet of Things supply chain and ecosystems especially relevant in critical infrastructures.
Asset owners from critical infrastructure can see the benefits of UL CAP as a means for evaluating the security posture of their supply chain. "The availability and integrity of critical infrastructure is crucial to the safety and well-being of society. A comprehensive program that measures critical systems against a common set of reliable security criteria is helpful," states Terrell Garren, CSO, Duke Energy. UL CAP offers trusted third party support, with the UL 2900-2-2 Standard focusing on both the security of network-connectable products and systems and the vendor processes for developing and maintaining products and systems with a security focus. Additionally, asset owners know the significance of UL CAP being developed with Open Source technologies in mind as it aligns and simplifies their network-connectable products and systems, architectures, and cybersecurity strategies.
UL's evaluation of the security of industrial control systems uses UL 2900-2-2 which is within the UL 2900 series of standards that outline technical criteria for testing and evaluating the security of products and systems that are network-connectable. These standards form a baseline set of technical requirements to measure, and then elevate, the security posture of products and systems. UL 2900 is designed to evolve and incorporate additional technical criteria as the security needs in the marketplace mature.
Building on the successful framework of the UL CAP pilot program, during which initial vendors benefited from this innovative program, UL CAP can help vendors identify security risks in their products and systems and suggests methods for mitigating those risks.
UL 2900-2-2 Standard is intended, but not limited, to apply to the following components:
Programmable Logic Controllers (PLC)
PLC and DCS programming software/operator interfaces (HMI)
Control Server
Remote Terminal Unit (RTU)
Human-Machine Interface (HMI)
Input/Output (IO) Server
Networking Equipment for ICS Systems
Distributed Control Systems (DCS)
Historian or Data Loggers
The SCADA Server
Intelligent Electronic Devices (IED)
Data Historian
Fieldbus
Access Equipment for ICS Systems
Meeting the requirements outlined in UL 2900-2-2 Standard allows industrial control systems to be certified by UL as "UL 2900-2-2 compliant". Additionally, since security is dynamic, UL 2900-2-2 can support the evaluation of a vendors processes for design, development and maintenance of secure products and systems.
For more information on UL CAP, visit us at IMTS, Booth #E-4135, or register for a free webinar on October 11, 2016 at 10am CST: How to Mitigate Cybersecurity Risks in Industrial Control Systems, or visit http://www.ul.com/cybersecurity. For product testing, evaluation or certification questions email Email Contact.
About UL
UL is a premier global independent safety science company that has championed progress for more than 120 years. Its nearly 11,000 professionals are guided by the UL mission to promote safe working and living environments for all people. UL uses research and standards to continually advance and meet ever-evolving safety needs. We partner with businesses, manufacturers, trade associations and international regulatory authorities to bring solutions to a more complex global supply chain. For more information about our certification, testing, inspection, training and education services, visit http://www.UL.com.
Featured Product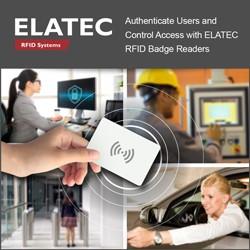 With a tap of the badge, RFID readers from ELATEC provide secure, reliable and easy-to-use user authentication, access control and usage tracking of hardware and software in industrial automation processes. Reader durability in harsh plant floor environments is another essential feature. Choose the right authentication and access control solution and extend RFID card-based capability for the access control of PLC, robot and HMI automation controller software and devices requiring special operator training.