New version of Tetra4D Converter and Tetra4D Enrich features improved performance when interacting with large and complex models, STEP AP242 export, and format updates for CATIA and Autodesk Inventor
September 1, 2016 - Bend, OR USA - Tech Soft 3D, leading provider of software development tools and 3D PDF solutions to the engineering industry, today announced major enhancements to Tetra 4D Converter, a powerful solution for converting 3D CAD to 3D PDFs, and Tetra4D Enrich, a new application that enables anyone to create rich, interactive 3D PDF documents quickly and easily directly inside of Adobe Acrobat [Professional]. Together, Tetra4D Converter and Tetra4D Enrich support multiple workflows, allowing users to package precise solid geometry and all necessary PMI into a lightweight, sharable format.

"The more we work with customers on solving key business problems around process and workflow, the more we understand how we need to continue enhancing our 3D PDF products to address those critical issues," said Gavin Bridgeman, vice president of products at Tech Soft 3D. "I am extremely proud of our team for creating a solution that truly is the most robust, most complete, the easiest to use and has helped so many of our customers save immeasurable amounts of time, and hundreds of thousands of dollars."
The enhancements to Tetra4D Converter include format updates for CATIA and Autodesk Inventor, as well as adding STEP AP242 export, a powerful standard for 3D model-based engineering and the globally declared backbone format for the aerospace, defense and automotive industries. Providing STEP AP242 reading and new export capabilities means that now any user of Tetra4D solutions can generate technical data packages with an attached STEP file, to share product information downstream in manufacturing workflows. Tetra4D Converter also features enhancements that will provide a better user experience overall.
"After using Tetra4D Converter for the past couple years, I cant even imagine how I would be able to do my job without such a great tool. It would feel like Im designing back in the dark ages!" said Jerome Bosch, Core Engineer at Takata, global manufacturer of motor vehicle safety belts and restraints. "As a manager in the Core Engineering group, Im supporting all of our customer business units, working with them during the design, tooling, testing and launch phases. Checking out CAD data at all stages of the development is crucial to making sure we are creating the best products for our customers, suppliers and operations group. With a larger emphasis on 3D CAD data, as opposed to 2D drawings, having a tool that allows you to quickly review geometry without needing resource consuming native CAD packages such as CATIA or NX is a major advantage."
Tetra4D Enrich encompasses all enhancements included with Tetra4D Converter, and also boasts new capabilities, including:
• Populating text fields with CAD attributes: This new feature enables the user to populate a title block with native CAD attributes
• Performance optimization: There is now increased performance when creating and consuming Tetra4D Enrich PDF docs. As a result, the creation process is more efficient and less time consuming, especially when working with large/complex models
Together, Tetra4D Converter and Tetra4D Enrich are the only solutions that allow anyone to create data rich, interactive 3D PDFs inside Adobe Acrobat without the need for development skills, and support native CAD data from more than 20 file formats.
FREE TRIAL
Tetra4D Converter and Tetra4D Enrich are available now for free trial (http://www.tetra4d.com/freetrial/ or http://www.tetra4d.com/tetra4d-enrich/) or purchase through our global network of authorized resellers (http://www.tetra4d.com/resellers). You can also purchase directly from www.tetra4d.com.
About Tetra4D
Tetra4D (www.tetra4d.com) provides best-in-class solutions for integrating 3D PDF into engineering, manufacturing, technical publication, medical/dental, heavy construction, and AEC workflows. Users of Tetra4D solutions make 3D and related data accessible and more valuable to all disciplines and areas, both internal and external to their organization. Working with ISO, AIIM, the 3D PDF Consortium, and others, Tetra4D is a partner in driving the development of PDF, PDF/E and the PRC data formats as open standards. As an Adobe Gold Level Technology Partner, Tetra4D is the leading provider of 3D PDF technology to Acrobat users. Follow us on Twitter at @tetra4d, Facebook at www.facebook.com/tetra4d, or see our products on YouTube.
About Tech Soft 3D
Tech Soft 3D is the leading global provider of development tools that help software teams deliver successful applications, as well as the creator of the PRC format that is part of the PDF standard. Established in 1996 and headquartered in Bend, Oregon, Tech Soft 3D also has offices in California, Ohio, France, England and Japan. The companys toolkit products power nearly 500 unique applications running on hundreds of millions of computers worldwide, while the Tetra4D brand of end-user products are used by many of the top manufacturing and construction firms for converting CAD data into 3D PDF. For more information, visit http://www.techsoft3d.com and http://www.tetra4d.com.
Featured Product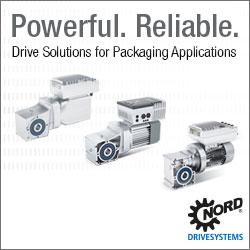 NORD's redesigned line of small CLINCHER parallel gear units showcase increased power and torque capacity for a variety of applications. These re-engineered versions will be replacing the existing SK0182NB, 0282NB, and 1382NB units. They are lightweight, have improved heat dissipation, are more cost-effective, and are available with NORD nsd tupHTM sealed surface conversion for wash-down and extreme environments.