The system is designed for workpiece weights of up to 800 kilograms (RLS 800) or 1,500 kilograms (RLS 1500) and dimensions up to 1,300 mm.
Aug 29, 2016 -- Liebherr's Rotary Loading System (RLS), on display in Liebherr's booth N-6930 at IMTS, offers cost-effective entry into high-efficiency production with one or two machining centers - promoting machine utilization of more than 90 per cent, according to the company. The system is designed for workpiece weights of up to 800 kilograms (RLS 800) or 1,500 kilograms (RLS 1500) and dimensions up to 1,300 mm.

"Using the RLS to extend a machine's running time makes investing in an additional machine completely unnecessary in certain cases," said a Liebherr spokesman. This solution is more effective than marginal increases in productivity that could result, for example, from optimizing CNC programs or the tools of machines that are manually fed or partly automated. One or two machining centers can be docked to the system.
For batch size 1 and above, the RLS provides considerable efficiency potential. The operator can use the machine's running time to perform other production tasks; set-up costs thus don't enter into the machine costs/hour equation.
Optimum machine utilization and reduced staffing requirements result in decreased unit costs of up to 20 per cent, so the investment can pay for itself in less than two years. Moreover, the system improves delivery capability and facilitates rapid, flexible responses to changes in customer demand.
The RLS is a cost-effective entry-level solution for users with very small batch sizes (batch size 1 and above) or small batch manufacturers, comonly manufacturers with 20 to 30 employees, or tool- and die-makers, who manufacture individual components with very long running and set-up times, as well as very substantial cutting capacity.
The integration of an automation system facilitates higher machine tool productivity as well as streamlined management of equipment and workpieces by utilizing machines effectively and keeping distances short.
"Small-batch manufacturers are driven by one key issue: how to decouple the work tasks of operating personnel from machine operation times," said the Liebherr spokesman. "Decoupling a machine's set-up and operation from the cycle time required for machining a workpiece offers major potential for increasing utilization and reducing unit costs in the long term."
Long set-up times, especially for small batches, considerably reduce productivity and are especially costly if the employee needs more time to set up than the machine needs for machining. It is here that compact automation systems can be effective.
For more information, www.liebherr.com
Featured Product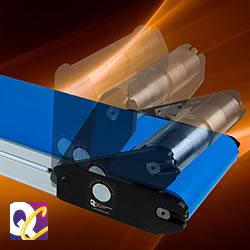 AS40 Conveyors are designed for ease of use and simple integration with robotic applications. Built on a rigid aluminum frame, they feature tee slots for rapid accessory mounting and a tail that flips up at the push of a button for easy under-belt cleaning and belt changes. Nosebar tails are available for transferring small parts between conveyors. All conveyors include a 10 Year Warranty and most are available with a fast five day lead time.