New space allows for improved testing, engineering, and fabrication services for clients seeking product development solutions
Innova Engineering announced the purchase and establishment of its new Research and Development facility in Santa Ana, California. The new facility allows for an expansion of capabilities and services offered by the engineering firm.

With over 22 years of experience in the product development industry, Innova Engineering supports manufacturers in the medical, aerospace, automotive and consumer product industries, utilizing computer simulation with a process-driven conceptual engineering model to help clients develop new products and bring them to market, as well as sustaining and improving products already in the marketplace.
The new research facility will support Innova's testing, engineering, and fabrication services and is a part of a companywide growth initiative that will see Innova expand their current product simulation services to include prototype testing and fabrication services.
"Innova already enjoys a strong reputation among our clients for our considerable experience in computer simulation tools in product design applications," said John Cogger, President of Innova Engineering. "The new R&D facility will allow us to take our clients beyond the conceptual design engineering process into physical fabrication and prototype testing."
Innova Engineering prides itself in solving difficult engineering problems for clients through simulation and computer modeling, whereby problems are solved for client firms through simulation and analysis. Once the solutions are proven successful, Innova transfers the methods, techniques, expertise, and software applications to the client. Innova's simulation methods include predicting component behavior during functional cycling, optimizing component design to achieve best-in-class results, applying non-intuitive loadcases and evaluating product performance, and predicting and correcting potential failures before they occur.
With a successful history of helping clients develop their products for market, the R&D facility represents the next step in Innova's service offerings. The new space in Santa Ana will allow the company to combine testing and fabrication services with its current simulation services and provide further support to manufacturers seeking help in product development.
Innova Engineering currently offers a range of services including:
Material selection with physical and mathematical validation
Product and tooling design and detailed development
Manufacturing simulation for molding, forging, casting, etc.
Design for manufacturing and assembly
Performance based non-linear finite element analysis
Product prototyping and limited run soft tooling and first articles
Method development and mentoring toward technology and software
The newly acquired facility is already established and operational, currently supporting development of an advanced automated assembly line for pilot scale production of a medical device. To learn more about Innova Engineering, visit http://innovaengineering.com.
About Innova Engineering
Innova Engineering provides engineering services to discrete manufacturers in the medical, aerospace, automotive and consumer product industries. Specializing in product development services, Innova utilizes advanced computer simulation CAE tools to solve the difficult engineering problem that product developers and manufacturers encounter during the process of introducing new products - promoting effective product development, and sustaining existing products in the marketplace. For more information, visit innovaengineering.com.
Featured Product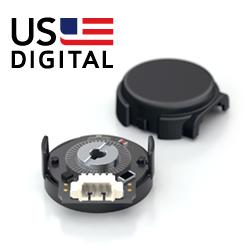 US Digital is pleased to announce the launch of the E4T, their latest series of miniature high performance optical encoders. The E4T series delivers a marked performance increase over similar encoder models and designed to be an enhanced replacement for the E4P encoder series. The E4T utilizes state of the art transmissive optical sensing technology, and incorporates US Digital's own proprietary OptoASIC. Assembly of the E4T is simple and efficient and retains the previous E4P's form factor. Key features of the new E4T include: • Mechanically and Electrically Interchangeable with E4P • Improved Quadrature Signal Strength • 100 kHz Frequency Response • Transmissive Optical Design • Collet Style Push on Optical Disk Design (Patent Pending) • Simple & Efficient Assembly Process As with all of our products the E4T is designed and manufactured in their Vancouver, Washington USA facility and is available for purchase as of December 2014.