New space allows for improved testing, engineering, and fabrication services for clients seeking product development solutions
Innova Engineering announced the purchase and establishment of its new Research and Development facility in Santa Ana, California. The new facility allows for an expansion of capabilities and services offered by the engineering firm.

With over 22 years of experience in the product development industry, Innova Engineering supports manufacturers in the medical, aerospace, automotive and consumer product industries, utilizing computer simulation with a process-driven conceptual engineering model to help clients develop new products and bring them to market, as well as sustaining and improving products already in the marketplace.
The new research facility will support Innova's testing, engineering, and fabrication services and is a part of a companywide growth initiative that will see Innova expand their current product simulation services to include prototype testing and fabrication services.
"Innova already enjoys a strong reputation among our clients for our considerable experience in computer simulation tools in product design applications," said John Cogger, President of Innova Engineering. "The new R&D facility will allow us to take our clients beyond the conceptual design engineering process into physical fabrication and prototype testing."
Innova Engineering prides itself in solving difficult engineering problems for clients through simulation and computer modeling, whereby problems are solved for client firms through simulation and analysis. Once the solutions are proven successful, Innova transfers the methods, techniques, expertise, and software applications to the client. Innova's simulation methods include predicting component behavior during functional cycling, optimizing component design to achieve best-in-class results, applying non-intuitive loadcases and evaluating product performance, and predicting and correcting potential failures before they occur.
With a successful history of helping clients develop their products for market, the R&D facility represents the next step in Innova's service offerings. The new space in Santa Ana will allow the company to combine testing and fabrication services with its current simulation services and provide further support to manufacturers seeking help in product development.
Innova Engineering currently offers a range of services including:
Material selection with physical and mathematical validation
Product and tooling design and detailed development
Manufacturing simulation for molding, forging, casting, etc.
Design for manufacturing and assembly
Performance based non-linear finite element analysis
Product prototyping and limited run soft tooling and first articles
Method development and mentoring toward technology and software
The newly acquired facility is already established and operational, currently supporting development of an advanced automated assembly line for pilot scale production of a medical device. To learn more about Innova Engineering, visit http://innovaengineering.com.
About Innova Engineering
Innova Engineering provides engineering services to discrete manufacturers in the medical, aerospace, automotive and consumer product industries. Specializing in product development services, Innova utilizes advanced computer simulation CAE tools to solve the difficult engineering problem that product developers and manufacturers encounter during the process of introducing new products - promoting effective product development, and sustaining existing products in the marketplace. For more information, visit innovaengineering.com.
Featured Product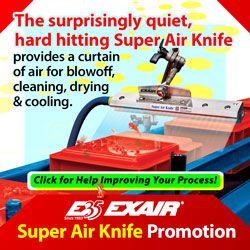 EXAIR Cabinet Cooler® Systems are a low cost, easy to install, maintenance free way to cool and purge electronic control panels. EXAIR Cabinet Coolers incorporate a vortex tube that produces cold air from ordinary compressed air - with no moving parts. The compact Cabinet Cooler can be installed in minutes through a standard electrical knockout. NEMA 12, 4, and 4X (IP54 and IP66) Cabinet Coolers that match the NEMA rating of the enclosure are available in many cooling capacities for large and small control panels. NEMA 12 Cabinet Coolers are ideal for general industrial environments where no liquids or corrosives are present. NEMA 4 Cabinet Coolers incorporate a low pressure relief valve for both the vortex tube and cabinet air exhaust. This valve closes and seals when the cooler is not operating to maintain the integrity of a NEMA 4 enclosure. NEMA 4X Cabinet Coolers offer the same protection as NEMA 4 but are constructed of stainless steel for food service and corrosive environments.