Press Conference Scheduled for Wednesday, September 14, 2016 at 1pm in Booth E-5202
Aug 8, 2016 -- Hexagon Manufacturing Intelligence North America today announced its Integrated Solutions Business group will unveil a new-to-the-market Automation solution at IMTS (International Manufacturing Technology Show) 2016, McCormick Place, Chicago, IL from September 12 - 16, 2016. This groundbreaking series of data-driven solutions will feature robotics integrated with world-class metrology technologies. The specialized product line enables on-demand access to real-time factory floor data for predictive manufacturing in Industry 4.0 environments. Hexagon Manufacturing Intelligence will host a Press Conference in Booth E-5202 to roll out the new product on Wednesday, September 14, 1pm - 1:30pm. The press is requested to RSVP via email: Email Contact or 860-399-1147.

Hexagon will also highlight recently introduced products that will be demonstrated throughout the week. The new product lineup at IMTS includes the portable ROMER 77 Series, the Leica Absolute Scanner LAS-20-8 featuring 7DoF capabilities, the ultra-fast BLAZE 600M blue light scanner, the AICON PrimeScan scanner line, the GLOBAL Advantage HTA (High Throughput & Accuracy) designed for aerospace compression blade measurement, and the Global EVO coordinate measuring machine (CMM) created in collaboration with the internationally-renowned industrial design house Pininfarina. In addition, Hexagon Manufacturing Intelligence will exhibit its full complement of software, hardware, and accessories that are shaping smart change in manufacturing worldwide.
In Booth E-5202, Hexagon will also showcase a full-sized Airbus EC130 Helicopter and an official racecar from Hendrick Motorsports, winner of a record 11 NASCAR Sprint Cup Series championships. Hexagon Manufacturing Intelligence partners in collaborative technology development and problem solving with Hendrick Motorsports' engineering team. For a full overview of Hexagon's products, speakers, videos and events at IMTS 2016, visit this webpage.
About Hexagon Manufacturing Intelligence
Hexagon Manufacturing Intelligence helps industrial manufacturers develop the disruptive technologies of today and the life-changing products of tomorrow. As a leading metrology and manufacturing solution specialist, our expertise in sensing, thinking and acting - the collection, analysis and active use of measurement data - gives our customers the confidence to increase production speed and accelerate productivity while enhancing product quality.
Through a network of local service centers, production facilities and commercial operations across five continents, we are shaping smart change in manufacturing to build a world where quality drives productivity. For more information, visit HexagonMI.com.
Hexagon Manufacturing Intelligence is part of Hexagon (Nasdaq Stockholm: HEXA B; hexagon.com), a leading global provider of information technologies that drive quality and productivity across geospatial and industrial enterprise applications.
Featured Product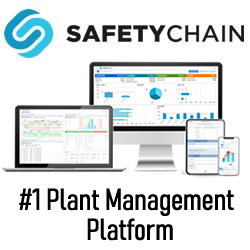 SafetyChain is the #1 Plant Management Platform that improves yield, maximizes productivity, and ensures compliance for process manufacturers. Trusted by over 1,500 facilities, SafetyChain is the only enterprise solution uniting production, quality, safety, and supplier management.