Housed in Small Packages; Designed for Currents up to 4A
IRVINE, Calif., Aug. 3, 2016 /PRNewswire/ -- Toshiba America Electronic Components, Inc. (TAEC)*, a committed leader that collaborates with technology companies to create breakthrough designs, today announced the launch of a new lineup of high-current control photorelays. The TLP3106, TLP3107, TLP3109 and TLP3127 are designed for currents in the range of 1.7A to 4A and are housed in small, space-saving (2.54SOP4, 2.54SOP6) packages.

Targeting applications that handle relatively large currents, including programmable logic controllers (PLCs), battery management systems (BMSs) and factory automation inverters, the new photorelays utilize Toshiba's latest generation trench MOSFETs. These MOSFETs are capable of controlling large currents at levels equivalent to those usually handled by mechanical relays[1]. When compared to mechanical relays, which have mechanical contacts, photorelays have the advantages of producing less noise and eliminating deterioration caused by contact wear.
The use of a 2.54SOP6 package (TLP3109) reduces mounting volume by approximately 40 percent and product height by approximately 50 percent, when compared to Toshiba's products in DIP packages. The small size allows for mounting on the back surface of printed circuit boards and can contribute to smaller sets. Toshiba's diverse lineup of photorelays includes products with terminal (blocking) voltages of up to 100V, making them suitable for use in various applications - including power line control.
Key Applications
Programmable logic controllers (PLC)
Battery management systems (BMS)
Inverter motor torque protection
HVAC relay replacement
Test equipment
Security equipment
Pricing and Availability
Toshiba's new photorelays are available now. Please contact your local Toshiba Sales Office for samples.
[1]: Small capacity, small-size mechanical relays for printed circuit boards.
*About TAEC
Through proven commitment, lasting relationships and advanced, reliable electronic components, Toshiba enables its customers to create market-leading designs. Toshiba is the heartbeat within product breakthroughs from OEMs, ODMs, CMs, VARs, distributors and fabless chip companies worldwide. A committed electronic components leader, Toshiba designs and manufactures high-quality flash memory-based storage solutions, solid state drives (SSDs), hard disk drives (HDDs), solid state hybrid drives (SSHDs), discrete devices, custom SoCs/ASICs, imaging products, microcontrollers, wireless components, mobile peripheral devices, advanced materials and medical tubes that make possible today's leading smartphones, tablets, cameras, medical devices, automotive electronics, industrial applications, enterprise solutions and more.
Toshiba America Electronic Components, Inc. is an independent operating company owned by Toshiba America, Inc., a subsidiary of Toshiba Corporation, Japan's largest semiconductor, solid state drive and hard disk drive manufacturer and the world's seventh largest semiconductor manufacturer (Gartner, 2015 Worldwide Semiconductor Revenue, January, 2016). Founded in Tokyo in 1875, Toshiba is at the heart of a global network of over 550 consolidated companies employing over 188,000 people worldwide (as of March 31, 2016). Visit Toshiba's web site at http://toshiba.semicon-storage.com.
Featured Product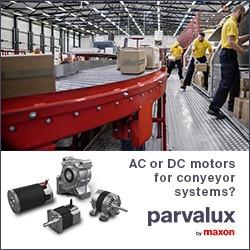 British-made Parvalux geared motors are used in a huge range of industrial applications in almost 80 countries. We manufacture conveyor belt motors, automatic shutter motors, packaging motors and much more. When you need reliable operation, you can trust Parvalux to safely power your application.