Pro Mach and Zarpac combine leadership in packaging line machinery and technical services to create integrated solution powerhouse; Customers gain single source, comprehensive solution and services partner for optimum line development, performance, and risk management throughout lifecycle
Pro Mach, Inc., an industry-leading integrated packaging solutions company, announced today it has acquired Ontario-based Zarpac, Inc., a leading global provider of packaging line engineering, integration, and productivity services and solutions. With the addition of Zarpac, Pro Mach advances its goal to be the global leader in integrated packaging solutions and a single-source provider of high-performance packaging lines.

Zarpacs products and services include packaging line system design and build, performance diagnostics software, robotics testing and integration, mechanical and electrical engineering, project management, technical training, productivity support, and material handling solutions. Managing projects around the globe, Zarpac serves customers in North America, Europe, Latin America, and Asia Pacific from offices in Canada, United States, and China.
"Were pleased to welcome the outstanding Zarpac team to Pro Mach," said Mark Anderson, Pro Mach President and CEO. "We share common values and commitment to being the best in our field. With this move, we're able to offer a unique advantage to our customers as a global single-source provider of complete packaging solutions and integration services. The addition of Zarpacs facility in China helps us better serve our customers across Asia with integration services and support, and continues to extend Pro Machs global support infrastructure with our recent facility additions in Mexico and Dubai."
In addition to traditional equipment and controls engineering and integration, Zarpac is a leading innovator in line performance improvement, modeling, and testing. Zarpacs proprietary manufacturing connectivity and diagnostics software has more than 10,000 installations across the globe and allows packaging and processing companies to automatically collect and analyze comprehensive performance data across all their facilities - locally or worldwide - to improve Overall Equipment Effectiveness (OEE) and Total Cost of Ownership (TCO). Zarpacs robotics services include sophisticated pretesting and modeling to ensure optimum cell design and performance before line build out and equipment investment.
Current Zarpac CEO Frank Roberts will join Pro Mach as Senior Vice President of the newly formed Pro Mach Integrated Solutions Group. Pro Mach will continue to invest in Zarpacs team, products, services, and facilities to further advance its position as a leading engineering and integration services provider.
"Pro Mach and Zarpac have a strong history of partnership and working together to serve mutual customers," said Roberts. "We bring together a great deal of experience and success in different aspects of packaging line creation, integration, and performance. Pro Machs leadership in customer service and manufacturing high-quality equipment solutions provides a great platform for continued innovation and growth of our engineering services. That said, we will continue to focus on bringing the best equipment together, regardless of OEM, to deliver the best value for our customers for both turnkey and engineered systems."
Pro Mach has grown rapidly into an integrated solutions leader by manufacturing complementary packaging and processing machinery and related solutions across the packaging line. It provides stand-alone machines and integrated systems for many of the worlds most recognized brands. Since 2010, Pro Machs installed base of machinery solutions has more than doubled and sales outside the United States have more than tripled. Total revenues this year are projected to exceed $600 million. Pro Mach expects the addition of professional engineering services to fuel further growth both in North America and abroad, particularly with companies looking for consistent packaging performance as they expand into new markets.
"Many of our customers are looking for a full service partner that will help them simplify line development, achieve optimum performance, reduce risks, simplify line control, and better manage costs throughout the design, build, and production lifecycle," said Barry Heiser, Pro Mach President, Global Filler and Integrated Solutions. "Weve taken a significant step in making that a reality for our customers, regardless of their size, location, or machine needs and investment."
"Consumer packaged goods and pharmaceutical companies large and small are looking for competitive advantages that help them produce and package their products more efficiently with higher quality, less waste, increased profit, and better resolution of issues that impact performance," adds Heiser. "Whether a customers best solution is equipment-based, service-based or a combination of the two - regardless of machine needs and investment - we want Pro Mach to be their best option as a high-performance problem solver."
Zarpac is headquartered in Oakville, Ontario and has operations in Iowa City, Iowa and Wuhu, China. To learn more about Zarpac, visit them online at http://www.Zarpac.com.
Pro Mach is a premier packaging and processing machinery manufacturer and integrated systems provider, with nearly 30 equipment brands sold throughout the world. Pro Mach manufactures and integrates solutions for the global filling, primary and secondary packaging, pharmaceutical packaging, and labeling and coding segments. Pro Mach continues to grow rapidly with a global customer base and operations in North America, Mexico, Europe, United Arab Emirates, and now China.
# # #
About Zarpac
Since 1989, Zarpac Inc. has delivered specialized engineering expertise throughout the packaging industry. As a significant global player in professional technical and engineering services, Zarpac offers full-spectrum support for the modification and improvement of existing production processes and the development and design of new production processes and custom proprietary machinery and systems. Zarpac works globally, across multiple markets, including food, beverage, healthcare, home care, chemical, pharmaceutical, paper products, personal care products, industrial products, and packaged building products. Zarpacs services include all aspects of specifications, procurement, engineering, build, installation, operations, training, and maintenance as well as consulting and production auditing. For more information about Zarpac, please visit http://www.Zarpac.com or call 905-338-8880.
About Pro Mach
Pro Mach is a leading provider of integrated packaging and processing products and solutions for food, beverage, consumer goods, pharmaceutical, and other diverse companies. Through multiple brands, Pro Mach provides product packaging and processing equipment, PMMI certified trainers, installation, parts, and service in Bottling & Capping, Primary Packaging, Pharmaceutical Packaging, Flexible Packaging, Material Handling, Labeling & Coding, and End of Line, as well as Integrated Solutions for complete packaging lines.
Pro Mach has a diverse customer base, from Fortune 500 companies to smaller, privately-held businesses worldwide, which depend on reliable, flexible, technologically advanced equipment and integrated solutions. Pro Mach is headquartered near Cincinnati, Ohio, with manufacturing facilities and offices throughout the United States, Canada, Mexico, Europe, United Arab Emirates, and China. For more information about Pro Mach, please visit http://www.ProMachInc.com.
Featured Product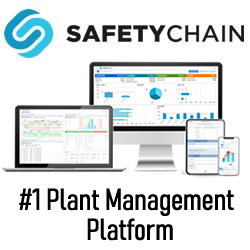 SafetyChain is the #1 Plant Management Platform that improves yield, maximizes productivity, and ensures compliance for process manufacturers. Trusted by over 1,500 facilities, SafetyChain is the only enterprise solution uniting production, quality, safety, and supplier management.