Aiming to strengthen product lineup and expand business by maximizing synergies
KYOTO, Japan--(BUSINESS WIRE)--Kyocera Corporation (NYSE:KYO)(TOKYO:6971) announced that it will acquire all shares in Melles Griot KK — a Japan-based manufacturer specializing in optical components which is currently a subsidiary of U.S.-based IDEX Corporation — in order to further expand its optical components business. Melles Griot KK is expected to become a wholly owned Kyocera Group company effective on September 1, 2016.

Background
Kyocera Optec Co., Ltd., a subsidiary of Kyocera Corporation, is a leading optical components provider focusing on development, production and sales of optical lenses and devices for the growing automotive market as well as for the factory automation (FA) and medical markets.
Particularly in the FA market, it is expected that efforts to further streamline and automize production processes will intensify worldwide. Moreover, demand is expected to grow for optical components which are incorporated into production equipment such as "machine vision" and "robot vision" that help image-recognition, positioning, measurement, and product inspection.
Melles Griot KK possesses development and manufacturing technology for large caliber lenses and high precision lenses used in FA devices. The Kyocera Group aims to strengthen its product lineup and expand its optical component business by maximizing synergies between the companies.
Main Objectives
Strengthen product lineup and expand sales network for the FA device market
Kyocera will increase its product lineup by developing new products through the synergy created from the companies technologies; while also expanding its global sales network by using the well-established customer base of Melles Griot KK.
Expand sales in the semiconductor processing equipment market
In the semiconductor processing equipment market, Melles Griot KKs products are used in the front-end processes, while Kyocera Optec provides products for the back-end processes. By combining the two companies strengths, Kyocera will be able to offer products covering the whole manufacturing process.
About KYOCERA
Kyocera Corporation (NYSE:KYO)(TOKYO:6971) (http://global.kyocera.com/) , the parent and global headquarters of the Kyocera Group, was founded in 1959 as a producer of fine ceramics (also known as "advanced ceramics"). By combining these engineered materials with metals and integrating them with other technologies, Kyocera has become a leading supplier of electronic components, printers, copiers, solar power generating systems, mobile phones, semiconductor packages, cutting tools and industrial ceramics. During the year ended March 31, 2016, the companys net sales totaled 1.48 trillion yen (approx. USD13.1 billion). Kyocera appears on the 2014 and 2015 listings of the "Top 100 Global Innovators" by Thomson Reuters, and is ranked #531 on Forbes magazines 2016 "Global 2000" listing of the worlds largest publicly traded companies.
Featured Product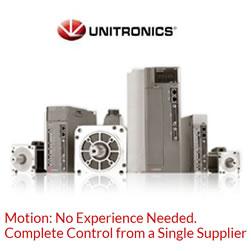 Unitronics' new line of AC Servo Drives & Motors changes the traditional approach to motion control. They are simple to set up and painless to program. Unitronics Servos simplify implementation of motion applications while minimizing complexity and reducing development time. Some of the easy-to-use features in this new line include implementing motion control easily with ready-made motion code, embedded diagnostic tools, and automatic communication setup.