Advantech (2395 TW), a global provider of intelligent systems and platform solutions across multiple vertical markets, is pleased to announce the launch of its AIIS product series aimed at automation-related machine vision applications.
Powered by an 6th Gen Intel® Core™ i/Celeron® SoC processer with rich I/O and flexible extendibility, Advantech's AIIS series enhances operations by providing outstanding machine vision performance, state-of-art computing, and flexible expandability. The AIIS series products also support PoE/USB 3.0 camera interfaces equipped with a dedicated controller for maximizing the image acquisition bandwidth and preventing frame losses.

Categorized into two design architectures - ruggedized (AIIS-5410P and AIIS-1200P/U) and highperformance (AIIS-3400P/U and AIIS-3410P/U), AIIS machine vision systems are suitable for various machine automation operations, including automated optical inspection (AOI), vision guidance robotics (VGR), and alignment inspection applications. Additionally, Advantech's machine vision systems have undergone tests for compatibility with its Tier 1 camera partners, Basler and Point Grey, to ensure convenient integration and implementation.
Ruggedized Machine Vision Systems Designed for Industrial Environments
To satisfy demands for ruggedized machine vision systems, Advantech developed the palm-sized AIIS-1200P/U and fanless AIIS-5410P models that feature durable architecture, protection from dust, as well as a compactspace-saving design. Meanwhile, the wide operating temperature (-20 ~ 60 °C) and input power (9 ~ 36V DC) range of AIIS-5410P and AIIS-1200P/U make them suitable for operation in harsh industrial environments.
High-Performance Machine Vision Systems for Diverse Applications
To satisfy demands for high-performance machine vision systems, Advantech produced the AIIS-3400P/U and AIIS-3410P/U models equipped with a 6th Gen Intel® Core™ i processor and 4-channel GigE PoE/USB 3.0 camera interface. In addition to delivering high computing power, AIIS-3410P/U can be integrated with advanced expansion modules (such as iDoor) for installing extra add-on cards to support diverse applications.
Featured Product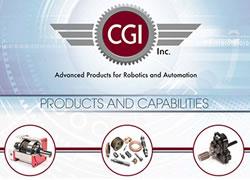 From Prototype to Production CGI Motion enables design excellence across a wide range of industrial applications. We thrive on customer driven innovation in precision gearbox, precision machined components and electro-mechanical assembly solutions ranging from aerospace systems to semiconductor applications. We are your design and manufacturing partner helping to differentiate your product, machine or innovation. Our team of problem solving engineers and product managers can bring your application to market on time and under budget. Whether it's an improvement on a current design or groundbreaking new designs, CGI has the know-how and team to enable design excellence. Connect with us today to explore what CGI Motion can do for you.