Modern batch solution offers enhanced integration with controller for better responsiveness and flexibility in process control applications
MILWAUKEE, July 21, 2016 — In today's processing environment, modern batch systems must account for the growing need for flexible, scalable solutions, true distribution of control, and responsive functionality. To address this, Rockwell Automation has introduced its new SequenceManager solution, which enables powerful and flexible sequencing capabilities of the batch process at the controller, offering increased functionality for skids, off-network systems and single-unit controls.

Leveraging a Logix-based controller platform from Rockwell Automation, the SequenceManager solution allows operators to configure, view and obtain critical information about batch sequences stored in the controller, increasing visibility and accessibility to all stages of the production process.
"The SequenceManager solution allows the user to deliver fast and reliable sequence execution while reducing infrastructure costs for standalone units and complete skid-based system functionality," says Dan UpDyke, product manager, Rockwell Automation. "This scalable solution brings plantwide control capabilities of a modern batch control, for both small and medium-sized operations."
Key capabilities of the solution include:
Intuitive operations - Modern interfaces, workflows and accessibility features empower operators to focus on production needs instead of managing system navigation and manual interventions, and view standardized batch reporting for seamless integration with other Rockwell Automation products.
Highly scalable architecture - OEMs can develop, test and deliver skids as fully functioning, standalone equipment that can seamlessly integrate into a site's existing batch strategy without the need to redeploy the code. End users will realize efficiencies in integration and reduced infrastructure costs that traditional batch solutions may normally require.
Flexible, yet secure - Takes advantage of ISA-88 standard methodologies and state transitions, while getting all of the security and benefits of Rockwell Software Studio 5000 Logix Designer and FactoryTalk View SE software from Rockwell Automation.
Increased responsiveness - Placing the recipe and sequencing in the controller enables the SequenceManager solution to control high-speed and time-dependent processes through rapid response and secured connectivity.
The SequenceManager solution is well-suited for industries where batch process control is regulated and/or business critical, such as food, beverage, pharmaceutical and chemical. Specific applications include single- or multiple-independent unit operations, such as OEM skids, clean-in-place systems, dryers, evaporators, ovens and reactors.
About Rockwell Automation
Rockwell Automation Inc. (NYSE: ROK), the world's largest company dedicated to industrial automation and information, makes its customers more productive and the world more sustainable. Headquartered in Milwaukee, Wis., Rockwell Automation employs approximately 22,000 people serving customers in more than 80 countries.
Featured Product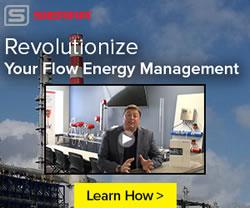 Sierra Instruments announces the launch of its new flow energy solution for managing and optimizing flow measurement for industrial facilities of all sizes. It features Sierra's QuadraTherm 640i/780i thermal flow meters, their InnovaMass 240i/241i vortex flow meters, and their new InnovaSonic 207i ultrasonic flow meter. Designed, built, and calibrated in the USA by Sierra, the Big-3TM share the same revolutionary Raptor firmware and many of the same software apps. They are a complete flow energy solution for flows like compressed air, natural gas, steam, and hot and chilled water. Together, they set a new standard in ease-of-purchase, performance, accuracy, reliability, and ease of use.