Medical Design & Manufacturing (MD&M) Minneapolis Headlines Six Co-located Expos Taking Place September 21 & 22 at the Minneapolis Convention Center
SANTA MONICA, Calif., July 7, 2016 /PRNewswire/ -- UBM Americas today announces its 2016 Minneapolis Advanced Manufacturing event, comprised of six co-located expos covering the entire range of the advanced manufacturing cycle, from conception to distribution. Medical Design & Manufacturing (MD&M) Minneapolis will headline the event, joined by Automation Technology Expo Minneapolis (ATX), Design & Manufacturing Minneapolis, MinnPack, PLASTEC Minneapolis, and Embedded Systems Conference (ESC) Minneapolis.

The region's most comprehensive advanced manufacturing expo and conference will take place September 21 & 22 at the Minneapolis Convention Center in Minneapolis, MN. For more information about these events and to register visit: http://mdmminn.mddionline.com
"We are excited to host such a wide range of leading manufacturing technologies under one roof. Greater Minneapolis is a growing source for manufacturing innovation, making it an ideal location to host these events dedicated to progress and education within the manufacturing space," said Stephen Corrick, senior vice president and portfolio director of UBM Americas' Advanced Manufacturing group.
Dynamic Show Floor
More than 600 exhibiting companies plan to demonstrate their latest innovations within their respective industries, showcasing some of the latest technology and trends. The show floor will include the region's leading suppliers in medtech, polymers, manufacturing equipment, design services, sensor components, 3D printing, data collection, product development, embedded hardware and software, connected devices and much more.
MD&M Minneapolis Conference
Powered by Medical Alley and led by some of the most respected figures in the industry, the MD&M Minneapolis Conference will feature two full days of programming spanning multiple tracks to take deep dives into the most pressing medtech topics. Presentations will cover hot medical trends, structural heart challenges and 3D printed medical devices. More specifically, the dedicated Industry 4.0 track will touch on retrofitting equipment for industrial IoT and big data as a diagnostic tool. For a full conference schedule and more information regarding this conference, visit: http://mdmminn.mddionline.com/conference-mdm
ESC Conference
The ESC Conference is comprised of three distinct tracks dedicated to embedded hardware design and verification, embedded software design and verification, and connected devices and IoT. The event will offer content led by the brightest minds in the industry as they deliver insight on various topics ranging from architecture and security to debugging & test. For more information on the ESC conference, please visit: http://escminn.com/conference
Social Media
@AdvMfgExpos
#UBMminn
To apply for a media pass visit: https://minneapolis.am.ubm.com/2016/registrations/Media
About Advanced Manufacturing Expos & Conferences
UBM's Advanced Manufacturing portfolio is the leading B-to-B event producer, publisher, and digital media business for the world's $3 trillion advanced, technology-based manufacturing industry. Our print and electronic products deliver trusted information to the advanced manufacturing market and leverage our proprietary 1.3 million name database to connect suppliers with buyers and purchase influencers. We produce more than 50 events and conferences in a dozen countries, connecting manufacturing professionals from around the globe. The Advanced Manufacturing portfolio is organized by UBM Americas, a part of UBM plc (UBM.L), an Events First marketing and communication services business. For more information, visit ubmamericas.com.
Featured Product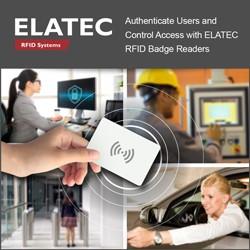 With a tap of the badge, RFID readers from ELATEC provide secure, reliable and easy-to-use user authentication, access control and usage tracking of hardware and software in industrial automation processes. Reader durability in harsh plant floor environments is another essential feature. Choose the right authentication and access control solution and extend RFID card-based capability for the access control of PLC, robot and HMI automation controller software and devices requiring special operator training.