Advanced TMR Technology Realizes Outstanding Performance Benefits for High-End Sensor Applications
SAN JOSE, Calif. and ZHANGJIAGANG, China, June 22, 2016 /PRNewswire/ -- MultiDimension Technology Co., Ltd. (MDT), a leading magnetic sensor supplier specializing in Tunneling Magnetoresistive sensors (TMR sensors), will exhibit its product lineup at Sensors Expo. MDT's TMR sensors are ideal choices for a variety of industrial, consumer and medical sensor applications with ultra-high sensitivity, ultra-low noise, and ultra-low power. The showcased new products include the recently announced picoTesla ultra-low noise sensors, three-axis TMR sensors, and USB magnetometer.

"MDT is the first volume supplier of TMR sensors. Our TMR technology realizes the key benefits of present magnetic sensor technologies including Hall Effect, AMR (Anisotropic Magnetoresistance) and GMR (Giant Magnetoresistance), while offering a set of extraordinary performance advantages, including ultra-high sensitivity, ultra-low noise, ultra-low power, and excellent thermal stability. Thanks to our strong IP portfolio and advanced manufacturing facilities, we are fully commitment to delivering the best value to customers with wide-ranging product lines and service options that are capable of satisfying the most rigorous requirements for high-end applications," said Dr. Song Xue, Chairman and CEO of MDT.
Features of MDT's TMR Sensors:
TMR switch sensors: 1microampere ultra-low power in high-speed operation, ideal for battery-powered flow meters, proximity switches, and portable medical devices;
TMR linear sensors: 300mV/V/Oe ultra-high sensitivity, ultra-low noise at 150pT/rtHz @1Hz, large dynamic range, in-plane/Z-axis/three-axis sensing, for magnetic field measurement, current sensing, non-destructive testing (NDT), and medical applications;
TMR magnetic image sensors: high-sensitivity 1/2/3/6/9/12/18-channel magnetic banknote readers, 50DPI magnetic image scanning for financial anti-counterfeit applications;
TMR angle sensors: 360-degree measurement with high-amplitude output, for rotary position sensing;
TMR gear tooth sensors: small pitch detection, for linear or rotary position/speed sensing.
About MDT
MultiDimension Technology was founded in 2010 in Zhangjiagang, Jiangsu Province, China, with branch offices in Shanghai, Chengdu, Ningbo, China and San Jose, Calif., USA. MDT has developed a unique intellectual property portfolio, and state-of-the-art manufacturing capabilities that can support volume production of high-performance, low-cost TMR magnetic sensors to satisfy the most demanding application needs. Led by its core management team of elite experts and veterans in magnetic sensor technology and engineering services, MDT is committed to creating added value for its customers and ensuring their success. For more information about MDT please visit http://www.multidimensiontech.com.
Featured Product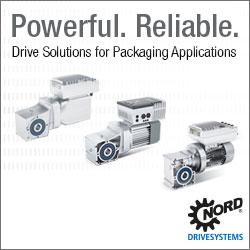 NORD gear units, motors, and electronic control products focus on durability, adaptability, and high efficiency for a wide range of manufacturing applications with over 20,000,000 standard configuration options. Featuring IE5+ PMS motors that can work effectively at partial loads and low speeds thanks to their constant torque and high overload capacity. Their smooth surface and ventilated designs provide ultimate versatility and variant reduction. Combined with surface protection options, such as IP69k or NORD's state-of-the-art nsd tupH Sealed Surface Conversion System, NORD drives are ready to take on the demands of extreme manufacturing environments.