Fabrice Marion, expert electrical engineer in CEDRAT's application team with responsibility for motor and generator solutions, used his seminar at the recent CWIEME Berlin exhibition to highlight how the FluxMotor software makes the task of evaluating electric rotating machine performance easy - for experts and non-experts alike.
Until recently the ability to evaluate efficiently the technical-economic potential of a rotating machine has been the preserve of expert users. But now a new generation of creation and evaluation tools dedicated to electric motors is opening up this ability to a broader range of users, including multidisciplinary engineers, technology purchaser, integrators and equipment manufacturers. In his seminar at the recent CWIEME Berlin exhibition CEDRAT's motor and generator solutions expert Fabrice Marion will highlight the latest news on pre-design practices and methods.

CEDRAT's FluxMotor software concerns the pre-design of electric rotating machines, but with a high level of accessibility, meaning it is user friendly whatever the level of use: beginner, intermediate or expert. Based on optimization technology, FluxMotor employs optimization technology to help reduce computing time to the minimum, yet maintaining the assurance of accurate results.
Helping optimize the selection process from selection or pre-design of motors to evaluation of comparable characteristics, the software is not only dedicated to people who design but also to people who need to choose a motor by evaluating simply its performances.
Creating a model of an electric motor and evaluating it within a few minutes, the potential for cost reduction as well as time saving is significant. Not only that, the technical-economic potential of an electric motor pre-design can also be quickly understood, offering a high gain of productivity when modeling electric rotating machines.
While this kind of software is not unique, the optimization technology inside FluxMotor and its concept of 'dynamic catalogs' offers efficiency advantages when evaluating performances of electric motors.
Featured Product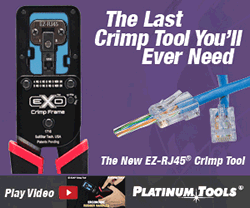 Platinum Tools is proud to present the newly patented EXO Crimp Frame® and EZ-RJ45® Die as our new EZ-RJ45 Crimp Tool! Built to terminate the original EZ-RJ45 connectors, which have been a staple in the industry for almost two decades, this crimp tool improves the trim and crimping processes of EZ-RJ45 connectors by using a single cycle crimp and flush trim.