Through this engagement, it has built a solution that provides customers with industry-leading cybersecurity and policy enforcement for Industrial IoT machines, applications and data.
ORLANDO, FL--(Marketwired - May 17, 2016) - Bayshore Networks, Inc., a provider of technology that safely and securely enables the Industrial Internet, today announced that it will participate at SAPPHIRE® NOW and the ASUG Annual Conference being held May 17-19 in Orlando, Fla. Bayshore is a participant in the SAP® Startup Focus program, which supports startups in building new applications on the SAP HANA® platform. Through this engagement, it has built a solution that provides customers with industry-leading cybersecurity and policy enforcement for Industrial IoT machines, applications and data.

With the Bayshore Networks IT/OT Gateway, SAP HANA users can aggregate data securely, in real time, from hundreds of industrial vendor endpoints, unlocking the full value of the reporting and analytics capabilities of SAP HANA. SAPPHIRE NOW attendees are invited to meet experts from Bayshore Networks to receive deeper insights into the Bayshore IT/OT Gateway.
SAP HANA enables businesses to make smarter, faster decisions through real-time analysis and reporting combined with dramatically accelerated business processes. Bayshore Networks has joined the SAP Startup Focus program to help industrial enterprises address the significant near-term risks of cyber-attack. At SAPPHIRE NOW, Bayshore will showcase the integration of its offering with SAP HANA, which provides industrial enterprises with unprecedented visibility and insight into their operational technology (OT) infrastructure.
"The Bayshore IT/OT Gateway enables SAP HANA analytics with extremely granular OT application data," said Mike Dager, Bayshore CEO. "The combined solution provides industrial enterprises with business benefits such as machine-to-machine (M2M) cybersecurity and safety, operational continuity, process efficiency and compliance. SAPPHIRE NOW attendees will see integrated use cases for secure OT access, predictive maintenance and industrial performance, among others."
The secure OT access use case is based on a real-world Bayshore implementation at one of the world's largest manufacturing companies. SAPPHIRE NOW attendees will experience how Bayshore protects the manufacturing plant from cyber-attacks and operational errors. The use case features cloud-based enforcement of line-of-sight policies that provide secure access to manufacturing robots. Bayshore's policy-based segmentation and isolation of industrial protocols and application data helps ensure safe maintenance and operation of robots.
SAPPHIRE NOW and the ASUG Annual Conference are the world's premier business technology event and largest SAP customer-run conference, offering attendees the opportunity to learn and network with customers, SAP executives, partners and experts across the entire SAP ecosystem.
Bayshore Networks is participating in the SAP Startup Focus program, which supports startups in developing new applications on SAP HANA. The program is an accelerator for big-data, predictive and real-time analytics startups. More than 2,700 startups are participating in the program to-date that have developed distinct SAP HANA-based use cases from gaming to retail to finance and manufacturing.
About Bayshore Networks, Inc.
Bayshore Networks®, named a Gartner Cool Vendor and SINET 16 Innovator, is the cybersecurity leader for the industrial Internet of Things. The Company's award-winning, patented Bayshore IT/OT Gateway™ software unlocks the power of the Industrial Internet by enabling industrial applications and data. It provides Fortune 1000s with unprecedented visibility into their Operational Technologies, safely and securely protecting industrial applications, networks, machines and workers. The software deploys from the cloud, as a virtual machine, or on-prem as a hardware appliance. Bayshore has strategic alliances with leading technology companies including AT&T, BAE Systems, Cisco Systems, and VMware. For more information, visit www.bayshorenetworks.com.
SAP, SAPPHIRE, SAP HANA and other SAP products and services mentioned herein as well as their respective logos are trademarks or registered trademarks of SAP SE (or an SAP affiliate company) in Germany and other countries. See http://www.sap.com/corporate-en/legal/copyright/index.epx for additional trademark information and notices. All other product and service names mentioned are the trademarks of their respective companies.
Bayshore Networks is a registered trademark. Bayshore IT/OT Gateway is a trademark of Bayshore Networks.
Featured Product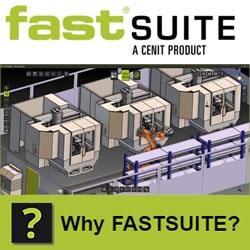 With two product lines, FASTSUITE for V5, which is seamlessly integrated with CATIA/DELMIA V5, and FASTSUITE Edition 2, a standalone platform, the areas of OLP (offline programming), manufacturing simulation and virtual commissioning are the core of our business activities. Our applications and solutions are not only focused on real customer needs, but they are also designed to improve efficiency and quality of our customers' manufacturing processes. No matter if the process is just about offline programming of a single robot at a small job-shop company or about the validation of a complete production line at an Automotive or Aerospace OEM. We strive to ensure a constant quality of our services and to provide the best possible support to our worldwide customers. Therefore we have established three digital manufacturing hubs around the world. All our teams have a proven expertise on manufacturing process integration and profound IT implementation skills.