First in the market all-in-one Hardware, Software and Cloud-based solution for Industrial IoT applications from Farnell element14 and Sierra Wireless
May 16, 2016 - CHICAGO - Newark element14 and Sierra Wireless today announce the launch of the mangOH Green Open Hardware IoT Platform and mangOH kit.

The mangOH Green Open Hardware IoT Platform allows developers to test and prototype ideas quickly and take IoT solutions to market within weeks. The industrys first complete sensor-to-cloud platform, it provides an all-in-one hardware, software and cloud-based solution for industrial IoT applications. Ideal for data logging in a remote location, the mangOH Green Open Hardware IoT Platform is perfectly suited for remote monitoring systems, as well as multiple sensor, IoT, and cloud-based applications.
At the heart of the board are two industrial-grade CF3 connectors to enable the use of either an AirPrime HL Series module or an AirPrime WP Series applications processor module from Sierra Wireless. The AirPrime WP Series cellular modem provides the device-to-cloud architecture enabling IoT developers to build a Linux-based product on a single module.
Key features of its hardware, software and cloud services include:
Hardware
• Integrated ARM-based application processor with cellular modem and GPS
• Arduino and IoT Connector to add wireless, wired, and sensor technologies
• Battery enabled for low-power applications
Software
• Legato open source Linux platform with robust connectivity APIs for accessing cloud and mobile network services
Cloud Services
• Pre-integrated with the IoT Acceleration Platform from Sierra Wireless
The mangOH Green IoT Platform is also compatible with other open source initiatives to allow for easy and fast prototyping; these include NXP thread module, Linear Technology Dust Networks and Texas Instruments ZigBee, Wi-Fi and Bluetooth module.
"We are delighted to work with Sierra Wireless to launch these first-to-market mangOH Green solutions," said David Shen, Chief Technology Officer at Premier Farnell. "It is an innovative platform that will appeal to developers working on next-generation IoT designs."
"The goal of the mangOH Green design is to remove the hardware complexity associated with prototyping IoT connected devices," said Andrew Suttle, VP, Global Distribution, OEM Solutions at Sierra Wireless. "We are excited that Newark element14 has adopted the open source design and is manufacturing and selling the industrial-grade boards globally."
The easiest way to get started is with the mangOH kit, which contains all of the components you need to get designing quickly. The kit contains a mangOH Green Base board, as well as a WP8548 module with Cortex A5 application processor, GNSS receiver and 3G modem, socket cover and release tool, two Breakout Board IoT Connectors, a power supply unit, antennas and USB cable.
Sierra Wireless is running a one hour webinar entitled 'Using open source technologies to rapidly build secure IoT devices on 24th May 2016 at 5pm GMT. The event is sponsored by element14. To register please use the following link: https://webinar.techonline.com/2007?keycode=CAA1EC
These new kits are the latest in Newark element14s diverse variety of solutions ranging from starter kits to complete development boards, including the newest releases and exclusive bundles at its Design Center; www.element14.com/designcenter
For more details, downloads and to participate in discussions on mangOH Green go to: https://www.element14.com/community/docs/DOC-80845
The mangOH™ Green IoT Platform is available from Farnell element14 in Europe, Newark element14 and North America, and element14 in Asia.
Featured Product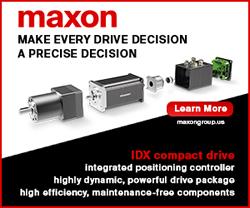 maxon motor launches new high-speed motors that are configurable online. The new ECX brushless motors are quiet and feature very high efficiency. The ECX motors are available with diameters of 8, 16 and 19 mm achieving speeds of up to 120,000 rpm. They run very smoothly and are highly efficient. With maxon motor's online configurator, it is easy to put together a customized DC motor to include gearhead, encoder and controller. The customized motors are ready to ship in 11 days!