Demonstrations feature near real-time M2M automation solution and intelligent vending machine offering remote monitoring and management
ADLINK Technology, a leading global provider of cloud-based services, intelligent gateways and embedded building blocks for edge devices that enable the industrial Internet of Things (IoT), invites attendees to view the companys latest IoT platforms, including a near real-time machine-to-machine (M2M) automation solution featuring robotic arms and an intelligent vending machine, in Booth 408 at IoT World 2016, May 10-12, at the Santa Clara Convention Center in Santa Clara, CA.

The M2M automation solution features the MXE-202i intelligent gateway, based on Intel® IoT Gateway Technology, and Vortex Data Distribution Services (DDS). Motion tracking triggers a motion sensor connected to the MXE-202i, which ingests the data that is then distributed to the robotic devices via Vortex DDS in order to activate the arms. The MXE-200i Series provides an intelligent, robust embedded system supporting wide application development and easy service deployment in industrial automation, while the Vortex intelligent data sharing platform enables easy distribution of data between devices and from device to cloud.
ADLINK intelligent vending machine features a Mini-ITX compute board and remote management enabled by the Smart Embedded Management Agent (SEMA) Cloud solution. ADLINKs intelligent vending employs software, hardware and end-user applications that work together in real-time to unlock previously inaccessible data, creating smart, interactive points-of-sale. The addition of cloud-based remote management tools enable vending systems to be managed more effectively by signaling maintenance or restocking requirements and adding the ability to more closely track incoming revenue.
For more information on ADLINKs Internet of Things offerings, visit http://www.adlinktech.com
For more information on IoT World 2016 or to register for a complimentary pass, visit https://secure11.eventadv.com/iotworld/.
About ADLINK
ADLINK Technology is enabling the Internet of Things (IoT) with innovative embedded computing solutions for edge devices, intelligent gateways and cloud services. ADLINKs products are application-ready for industrial automation, communications, medical, defense, transportation, and infotainment industries. Our product range includes motherboards, blades, chassis, modules, and systems based on industry standard form factors, as well as an extensive line of test & measurement products and smart touch computers, displays and handhelds that support the global transition to always connected systems. Many products are Extreme Rugged, supporting extended temperature ranges, shock and vibration.
ADLINK is a Premier Member of the Intel® Internet of Things Solutions Alliance and is active in several standards organizations, including PCI Industrial Computer Manufacturers Group (PICMG), PXI Systems Alliance (PXISA), and Standardization Group for Embedded Technologies (SGeT).
ADLINK is a global company with headquarters in Taiwan and manufacturing in Taiwan and China; R&D and integration in Taiwan, China, the US, and Germany; and an extensive network of worldwide sales and support offices. ADLINK is ISO-9001, ISO-14001, ISO-13485 and TL9000 certified and is publicly traded on the TAIEX Taiwan Stock Exchange (stock code: 6166).
Featured Product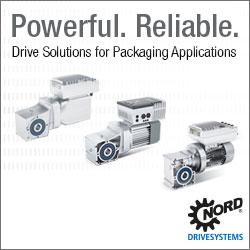 NORD's redesigned line of small CLINCHER parallel gear units showcase increased power and torque capacity for a variety of applications. These re-engineered versions will be replacing the existing SK0182NB, 0282NB, and 1382NB units. They are lightweight, have improved heat dissipation, are more cost-effective, and are available with NORD nsd tupHTM sealed surface conversion for wash-down and extreme environments.