Time-Sensitive Networking Standards Establish a Vendor-Neutral, Real-Time Industrial Ethernet Ecosystem to Enable the IIoT and Industry 4.0
St. Louis, Missouri - May 2, 2016 - Belden Inc., a global leader in signal transmission solutions for mission-critical applications, has made significant advancements in bringing standardized real-time communication to industrial applications through time-sensitive networking (TSN). In addition to significant contributions to the IEEE 802.1 TSN standardization process by engineers from its Hirschmann brand, Belden continues to make TSN a reality by integrating emerging standards into its industrial networking equipment.

With the ability to transmit regular data and time-critical control information simultaneously, TSN and the emerging standards offer many benefits, including:
• Guaranteed, specific timing for mission-critical and time-sensitive applications.
• Interoperability across vendors to create a seamless ecosystem that can evolve.
• Flexibility for manufacturers to quickly adapt and leverage technology innovations.
"Ethernet is a widely accepted communication technology, and an indispensable part of industrial automation. There is one application, however, that standard Ethernet has struggled to deliver on - network communication with rigid, real-time requirements," said Dr. Oliver Kleineberg, advance development manager for Beldens Hirschmann brand. "Through our contributions to the IEEE 802.1 TSN taskforce, we have made great strides to help define and achieve a degree of determinism that meets the real-time needs of modern and future control networks - and its possible to take advantage of this technology right now."
Belden recently showcased TSN in action through a live demonstration at the 2016 Hanover Fair in Germany. Through Hirschmanns RSP series of Ethernet switches, Belden demonstrated how the TSN standards allow simultaneous transmission of time-critical messages and background traffic, and the benefits this offers to industrial networks.
"With the unique challenges introduced by the Industrial Internet of Things (IIoT) and Industry 4.0, mission-critical networks need to provide high-bandwidth and the possibility to support communication streams with different quality of service on the same network. TSN enables exactly that, with a standardized solution for real-time Ethernet communication," added Kleineberg. "As we unveiled at Hanover Fair, we can already incorporate TSN into our standard products today, through firmware updates. Over time, TSN will be built into the chips and software of most, if not all, of our switches."
Belden and its Hirschmann brand continue to help lead the evolution of TSN standardization, through its role in the IEEE 802.1 committee, with the aim of defining a standard solution and providing customers with a complete industrial networking ecosystem that offers TSN functionality. Standardization will ensure interoperability between different vendors, scalability with future Ethernet speed increases and investment security.
"From small motion control applications to the factory-wide intelligent automation networks of the future, TSN is the basic technology that ties everything together and enables the IIoT," added Kleineberg. "With TSNs unprecedentedly low latency and frame delivery precision, it goes beyond anything that was ever possible with standardized IEEE 802.1 technology."
For more information about Belden and TSN, visit http://www.belden.com/blog/industrialethernet/4-Important-Things-to-Know-about-IEEE-802-1-Time-Sensitive-Networking.cfm.
An early innovator in industrial Ethernet, Belden knows Industrial IT and is delivering the next generation of industrial networking solutions. Its global brands - Hirschmann, GarrettCom and Tofino Security - are leading the way in the adoption of industrial Ethernet. With a purpose-built portfolio, Beldens wired, wireless and embedded products deliver the highest confidence of reliability, availability and security. In addition, excellent warranties and dedicated customer support minimize downtime, protect critical infrastructure and provide peace of mind.
About Belden
Belden Inc., a global leader in high-quality, end-to-end signal transmission solutions, delivers a comprehensive product portfolio designed to meet the mission-critical network infrastructure needs of industrial, enterprise and broadcast markets. With innovative solutions targeted at reliable and secure transmission of rapidly growing amounts of data, audio and video needed for todays applications, Belden is at the center of the global transformation to a connected world. Founded in 1902, the company is headquartered in St. Louis and has manufacturing capabilities in North and South America, Europe and Asia. For more information, visit us at www.belden.com; follow us on Twitter @BeldenInc.
Featured Product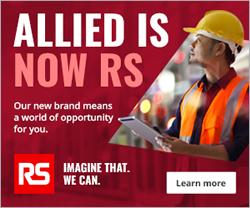 Imagine a global, end-to-end partner for industry - dedicated to solving your problems so you can drive your business forward. We can. On February 6, 2023, we officially changed our name to RS. It's just one way we're evolving to make our partnership and doing business with us even more rewarding. As RS, you have access to more support, more expertise, and more possibilities for your big and small projects - from concept and design to build and maintenance. Going forward, you'll see the RS logo on our website, social media, communications, and packaging. And rest assured, our current systems and procedures will remain intact to seamlessly process your order.