• Registration is open • Certified training programs offered
Siemens announced today that online registration for Automation Summit is open. This years summit will take place at the Aria Resort in Las Vegas, and all registrants can find additional Summit details on the registration site http://sie.ag/1SASEv7.

The Summit theme, "Community. Experiences. Productivity," will ring true in 2016, as the event provides engineering and operational professionals, and senior-level executives with end user learning opportunities covering the complete spectrum of automation--from process and discrete to motion control and drives.
The Summit will feature the popular Connect Event, where attendees can network in-person and virtually with solution providers, integrators, distributors, Siemens employees and end users via mobile device.
Siemens will offer hands-on training sessions at Automation Summit, which are led by Siemens technology experts and allow attendees to have access to product equipment and industry technologies. For more information visit http://sie.ag/1S2PYfd.
There will also be user-led breakout sessions scheduled featuring best practices on topics such as energy management, maintenance and operations, productivity and efficiency, and safety and industrial security. Attendees can learn about the latest in Siemens technology and discover the plans for future enhancements in the product roadmap sessions led by product management.
In addition to the Automation Summit, Siemens also offers its Users Community, an Online Portal where visitors can pose questions to a global user community, learn about best practices, share information and participate in on-demand webinars. For live event coverage of Siemens Automation Summit on Twitter, follow #automationsummit.
Siemens Digital Factory offers a comprehensive portfolio of seamlessly integrated hardware, software and technology-based services in order to support manufacturing companies worldwide in enhancing the flexibility and efficiency of their manufacturing processes and reducing the time to market of their products.
Siemens Process Industries and Drives helps its customers increase productivity, safety, reliability, efficiency and time-to-market for plants and processes with innovative, integrated technology across the entire lifecycle.
Siemens Corporation is a U.S. subsidiary of Siemens AG, a global powerhouse focusing on the areas of electrification, automation and digitalization. One of the worlds largest producers of energy-efficient, resource-saving technologies, Siemens is a leading supplier of systems for power generation and transmission as well as medical diagnosis. With approximately 348,000 employees in more than 190 countries, Siemens reported worldwide revenue of $86.2 billion in fiscal 2015. Siemens in the USA reported revenue of $22.4 billion, including $5.5 billion in exports, and employs approximately 50,000 people throughout all 50 states and Puerto Rico.
Featured Product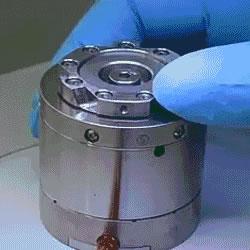 A traditional gantry system employs X-Y or X-Y-Z range of motion. Mounted on a base plate, usually granite, 2 parallel rails constitute the synchronized Y axis motion while the cross axis (bridge axis) provides the X motion. A vertical axis can be added on the bridge for the Z motion. A Split Bridge system can be less complex than a traditional gantry system because synchronization of the two parallel linear motors is not required. Both systems are used in industrial production, testing, and additive manufacturing.