Various Motor Control Development Support Tools for the RX24T and RX23T Available
SANTA CLARA, Calif.--(BUSINESS WIRE)--Renesas Electronics Corporation (TSE: 6723), a premier supplier of advanced semiconductor solutions, today expanded its robust lineup of 32-bit microcontrollers (MCUs) with the RX24T Group. Using the RXv2 CPU core, the new MCUs deliver double the performance from the RX23T, 30 percent reduced development time, and features additional instructions designed to accelerate performance and energy efficiency in industrial equipment, office equipment, and household appliances.

The new product lineup comprises a total of six new devices with pin counts from 80- to 100-pin and on-chip flash memory capacities from 128 kilobytes (KB) to 256 KB. The RX24T Group enables simultaneous inverter control of multiple motors with a single chip and are ideally suited for permanent magnet AC (PMAC) motor1 control in a variety of applications.
The RX24T Group offers up to 160 DMIPs, including dedicated analog functions to optimize the inverters Bill of Material (BoM) and furthermore increases the arithmetic operation and expands the motor-control peripheral functions of the cost-optimized RX23T.
In addition, Renesas plans to deliver a 24 V motor control evaluation kit2, that can support both the single-motor control RX23T and the multi-motor control RX24T.
Recently many countries have imposed legal requirements mandating improved motor efficiency3, in addition to regulations intended to reduce energy consumption. This has increased demand for highly efficient inverter control.
However, this has also created numerous concerns for system manufacturers who want to quickly release products for this new market but who lack the necessary development workforce and motor control expertise. In addition, many types of equipment are becoming more compact, reducing the amount of space available for printed circuit boards. Finding ways to reduce the number of components in order to integrate multiple boards and reduce their number has therefore become a major issue.
In response to this demand for better energy efficiency, higher-precision control, reduced board size, and shorter development time, Renesas has developed the RX24T Group, a high-speed, high-functionality 32-bit Group of MCUs that enables control of multiple motors with a single chip.
Key features of the new RX24T Group of MCUs:
(1) With on-chip FPU functionality for faster code execution, RX24T supports high-performance multi-motor control for development of platforms with a broad range of products
The RX24T incorporates the RXv2 CPU core with a five-stage pipeline, a floating point unit (FPU4) and DSP functions, executing 32-bit multiply within a single instruction to improve algorithm calculation accuracy. Effectively, the RX24T running at 80 MHz has similar performance levels of a comparable 100MHz MCU. The on-chip FPU functionality provides faster implementation of calculation-intensive algorithms with wide dynamic range.
The FPU enables the overall code to be reduced, and overall software implementations are executed much faster as no scaling or saturation occurred. It offers a higher accuracy than the integer implementation as the real physical units are used in the embedded software.
In addition, the FPU guarantees a faster computation time for PI controllers and estimators. The FPU simplifies debugging and can reduce development time by approximately 30 percent while reducing the rate of software glitches.
In addition, the RX24T Group of MCUs maintains excellent compatibility with the RX23T Group, allowing reuse of existing hardware and software assets, boosts CPU performance from 40 MHz to 80 MHz and Flash capacity from 128 KB to 256 KB, and doubles the power of the on-chip motor control-related peripheral functions (timers, A/D converters, and operational amplifiers) to enable control of multiple Permanent Magnet AC motors using a single chip.
The RX24T also integrates fail-safe mechanisms in hardware enabling fast implementation and execution of Class B Self-Test routines, mandatory for the IEC60730-1 safety compliance.
(2) Renesas flexible motor control development solution and tools allow one-day evaluation of sensorless vector control
Developing new motor-enabled systems for a rapidly growing market demands short application development cycles and specialized expertise. Renesas has developed a flexible 24 V motor control evaluation kit (Note 2) for use with the RX23T and RX24T. It enables developers to start evaluating motor control applications quickly, allowing development work to get underway with less effort. The kit includes a CPU card, a low-voltage inverter, a PMAC motor with sensorless vector control driver software5, and sample demos.
The kit also includes an in-circuit scope (ICS), a RAM variable waveform display tool that is indispensable in reducing the development workload, provides safe debugging and substantially shortens the time needed for evaluation. An intuitive auto tuning tool lets users tune their own motor in less than a minute, significantly simplifying development and eliminating typical trial-and-error methods. Software and evaluation tools include support for CS+ and e2 studio integrated development environments, a code generation support tool, C compilers, debuggers, and flash memory programmers.
In addition, the RX24T Starter Kit6 will also be available to provide a complete development environment for initial implementation, including a reference board populated with the RX24T and an MCU evaluation environment.
(3) Fewer external components for smaller printed circuit boards
As applications become more compact, print circuit boards (PCBs) sizes have shrunk, resulting in strong demand for MCUs that integrate the functions of external components. The RX24T integrates on-chip external circuits required by inverter control systems, such as op-amps supporting simultaneous four-channel amplification of three-shunt and one-shunt currents, comparators capable of overcurrent detection of amplified current, sample and hold circuits that can handle up to five channels simultaneously, such as three-shunt currents, and DataFlash for storing log and setting files. This dramatically reduces the mounting area needed on the PCBs.
The RX24T and RX23T also incorporate an automatic PWM signals shutdown to ensure the protection of the three-phase bridges; the module is called Port Output Enable (POE) and set the signals in high impedance state to secure the inverter.
Pricing and Availability
Samples of the RX24T are available now. Pricing varies depending on memory capacity, package and number of pins. For example, samples of the R5F524T8ADFN MCU, with an 80-pin package and 128 KB of on-chip flash memory, are priced at US$2.40 per 10K pcs/lot. Mass production has begun and is expected to reach a volume of 500,000 units per month by July 2017. (Pricing and availability are subject to change without notice.)
For more information on Renesas, follow Renesas Electronics America at @RenesasAmerica on Twitter and http://www.facebook.com/RenesasAmerica.
About Renesas Electronics Corporation
Renesas Electronics Corporation (TSE: 6723), the worlds number one supplier of microcontrollers, is a premier supplier of advanced semiconductor solutions including microcontrollers, SoC solutions and a broad-range of analog and power devices. Business operations began as Renesas Electronics in April 2010 through the integration of NEC Electronics Corporation (TSE:6723) and Renesas Technology Corp., with operations spanning research, development, design and manufacturing for a wide range of applications. Headquartered in Japan, Renesas Electronics has subsidiaries in 20 countries worldwide. More information can be found at www.renesas.com.
(Remarks) SuperFlash memory technology used in Renesas Electronics' RX24T MCUs is licensed from Silicon Storage Technology Inc. SuperFlash is a registered trademark of Silicon Storage Technology in the U.S., Japan, and other countries. All registered trademarks or trademarks are the property of their respective owners.
Featured Product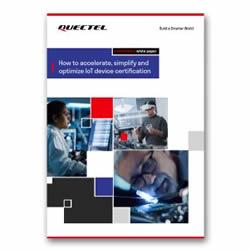 This white paper on the IoT device certification process can help your business accelerate product releases IoT device certification and testing is essential to the release of any connected product. Yet few IoT organizations have the time or skills to understand the variations and in-depth detail of the global certifications landscape. To help you decide which approach is best for your business, this white paper on IoT device certification sets out the complexities of certification, and explains how to optimize your organization's approach to obtaining certification.