Diversified Machine Systems completes new division, the Advanced Manufacturing Center, located at the DMS world headquarters in Colorado Springs, CO.
Diversified Machine Systems (DMS), an Original Equipment Manufacturer (OEM) of DMS CNC Routers and Large Format Machining Centers, announces the Phase 1 completion of the Advanced Manufacturing Center (AMC) located at the DMS world headquarters in Colorado Springs, CO.

The Advanced Manufacturing Center (AMC) is designed to align manufactures strategically with DMS as a trusted knowledge resource to address key manufacturing challenges. Today manufacturing companies are re-shoring and bridging manufacturing knowledge gaps at astonishing rates, DMS continues to leads the way with customer driven products and services aimed at helping companies produce more products faster, with higher quality, at a lower cost.
Through the AMC, DMS is offering training, collaboration on proof of concepts; project consulting and more, with the goal of helping customers improve their manufacturing processes and maximize their return on investment. DMS is also offering a revolutionary quick-change fixture, design to help customers meet their high-production goals.
Training and consulting services performed by a certified and experienced DMS technician, offering sessions at the world headquarters facility in Colorado Springs or at the clients site. Training can be customized to meet individual business needs to address the customers specific knowledge gaps. Training can be on an individual level to address complex issues, or on a larger scale to bring an entire production floor up-to-date.
Utilizing over 35+ years of experience, the Advanced Manufacturing Center provides expert project consulting for both start-up businesses and Fortune 500 companies. The engineers at DMS specialize in creating custom machinery and bring that same ingenuity and experience to the AMC. By utilizing the AMCs project consulting services, companies can go into production sooner, increase quality and improve operating efficiency.
The revolutionary "quick change" fixture is available exclusively on the line of DMS machine and is produced in the AMC. This tool reduces the fixture swap time from approximately 15 minutes down to just 30 seconds, and solves the widespread problem of changing out bulky fixtures. By drastically reducing the time dedicated to fixture changes, production cycles can be notably improved without incurring any additional labor costs.
The Advanced Manufacturing Centers objective is to improve manufacturing processes by providing the necessary guidance and resources to minimize knowledge gaps between concept and production. Clients can receive machine training, address programming challenges and get a head-start toward fabricating products while their DMS CNC machine is being built. This can fast-track a customers time to revenue, so that they can immediately begin production once their DMS machine is completed.
The Advanced Manufacturing Center extends Diversified Machine Systems reach as the industry leader in customer support and innovation.
Learn more about Diversified Machine Systems at http://www.DMSCNCRouters.com.
ABOUT DIVERSIFIED MACHINE SYSTEMS
Diversified Machine Systems (DMS) is a leading designer and manufacturer of 3 Axis CNC Routers, 5 Axis CNC Machine Centers, and Large Format Machine Centers headquartered in Colorado Springs, CO. With more than 30 years of innovation and industry experience as an Original Equipment Manufacturer (OEM), DMS line of CNC routers and machining centers are routinely used on materials such as wood, composites, aluminum, plastics and foams. Renowned for quality and precision, DMS advanced machining centers are engineered to increase efficiency and productivity, while maintaining the quality and precision leading manufacturers have come to expect.
Diversified Machine Systems was awarded the 2015 Governors Excellence in Exporting Award, named a 2014 Colorado Company to Watch and ranked in the 2014 & 2015 Top 250 Private Companies in Colorado. Diversified Machine Systems is also the parent company of CNC router manufacturer, Freedom Machine Tool.
Featured Product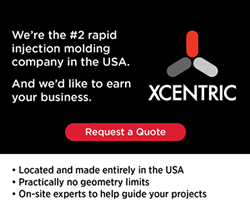 Xcentric plastic injection molding services focus on rapid delivery of prototype and low-volume production components. Our production processes are streamlined such that we typically deliver first articles in less than 15 business days, and for simple expedited projects in as little as five days. At the other end of the spectrum, we frequently produce components for customers needing a few hundred thousand components as a bridge to higher productivity molds. Over time, we have earned a reputation for being able to handle highly complex projects, overmolding, custom insert molding, and other complicated projects much faster than with traditional tooling, often helping our clients get to market weeks, if not months earlier. At Xcentric, every mold is designed and fabricated and all production is run in one of our two Michigan-based facilities.