Inventor of Cloud-based Product Lifecycle Management Receives Highest Honor at Design News Magazine's 15th Annual Awards Ceremony
FOSTER CITY, Calif., Feb. 23, 2016 /PRNewswire/ -- Arena Solutions, the pioneer of cloud-based product lifecycle management (PLM) applications, today announced that the company's flagship solution, Arena PLM, won a 2016 Golden Mousetrap Award from Design News. The winners were named at the annual awards ceremony that took place earlier this month during United Business Media's annual advanced manufacturing event held at the Anaheim Convention Center.

Now in its 15th year, the Golden Mousetrap Awards program was created by Design News to celebrate the people, companies, and technologies that are driving progress in product design and manufacturing. The program recognizes innovation in the development of new products in any of 16 different subcategories within the fields of Automation & Control, Electronics & Test, Hardware & Software, and Materials & Assembly.
Arena PLM won the "Design Tools - Hardware & Software - CAD/PDM/PLM Software" category. Arena PLM is a unique, multi-tenant, cloud-based, product lifecycle management, SaaS solution suite that affords OEMs complete control and visibility over complex bills of materials (BOM), including all aspects of their supply chain and engineering change management (ECR/ECO) while uniquely tying key events directly to the product record. Arena PLM connects design, engineering and manufacturing to give customers a single version of the truth for the entire product lifecycle, from ideation to manufacturing to retirement, and simplifies the management/tracking of every part needed.
"Arena PLM was created from the ground up to enable OEMs to gain control over their complex bill of materials and supply chains," said Kent Killmer, vice president of marketing at Arena Solutions. "With the explosion of the IoT phenomena, more and more previously untapped markets are now coming to Arena to collapse time to market with their newly embedded complex electronic components. To be recognized with this tremendous honor by Design News strongly validates our approach to PLM; we could not be more grateful."
For more information about Arena PLM, please visit http://www.arenasolutions.com/products/plm/
About Advanced Manufacturing Expos & Conferences
UBM's Advanced Manufacturing portfolio is the leading B-to-B event producer, publisher, and digital media business for the world's $3 trillion advanced, technology-based manufacturing industry. Our print and electronic products deliver trusted information to the advanced manufacturing market and leverage our proprietary 1.3 million name database to connect suppliers with buyers and purchase influencers. We produce more than 50 events and conferences in a dozen countries, connecting manufacturing professionals from around the globe. The Advanced Manufacturing portfolio is organized by UBM Americas, a part of UBM plc (UBM.L), an Events First marketing and communication services business. For more information, visit ubmamericas.com.
About Arena Solutions
Pioneer of cloud-based PLM, Arena's suite of PLM and supply chain solutions enable engineering, manufacturing and their extended supply chains to speed prototyping, reduce scrap, streamline their supply chain, improve margins, and collapse time to market. Based in Foster City, Calif., Arena's PLM applications simplify bill of materials (BOM) and change management for organizations of all sizes. The company has been ranked as a Top 10 PLM provider and Top 5 Supplier Collaboration solution. Arena also holds a spot on National Association for Business Resources' "San Francisco's Best & Brightest Companies to Work For" List for 2015. For more information, please visit: http://www.arenasolutions.com/
Featured Product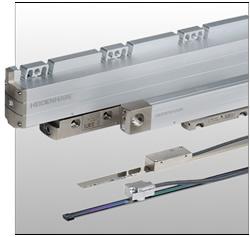 Nothing beats the positioning accuracy of linear encoders from HEIDENHAIN. Available in absolute and incremental versions and ideal for a variety of applications-including machine tools, semiconductor machines and medical machines-these measuring solutions combat a variety of issues that erode precision.