The Evana Validation Process (EVP)℠ helps healthcare product manufacturers avoid costly mistakes, bridge departmental silos, and expedite time-to-market
EVANSVILLE, Ind., Feb. 17, 2016 /PRNewswire/ -- Evana Automation Specialists, a leading Systems Integrator and builder of custom, automated assembly and test systems, recently launched a new validation program to assist healthcare product manufacturers with meeting FDA regulations during the process of implementing automated manufacturing equipment. The Evana Validation Process (EVP)℠ was designed to help healthcare product manufacturers avoid costly mistakes - such as overlooking critical requirements that could result in production downtime, bridge departmental silos, keep the entire product management team on the same page, as well as expedite time-to-market.

EVP is exclusive to Evana Automation customers. The process begins with the initial engagement, continues through the design and build process, and concludes with the Site Acceptance Test (SAT). In addition, Evana provides support with IQ/OQ/PQ (Installation Qualification, Operational Qualification, and Performance Qualification) initiatives upon request.
The Evana Validation Process (EVP)
"Inadequate validations are one of the top reasons healthcare product manufacturers get issued an FDA Form 483," said Oscar Ford, Healthcare Business Development Manager at Evana Automation Specialists. "Evana goes the extra mile to help healthcare product manufacturers align with FDA regulatory requirements and expedite time-to-market. Best of all, EVP has already proven to be a tremendous success with several high profile medical device manufacturers over the past 12 months."
For more information about EVP, visit http://www.evanaautomation.com/industries-served/healthcare/evana-validation-process.
Evana, a subsidiary of Phillips Service Industries, Inc., utilizes diverse technologies to specialize in motion control, robotics integration, welding integration and system architecture by linking production equipment, material handling systems, data collection, networking, as well as computer software and hardware into flexible, unified technology. Test equipment can be integrated into assembly systems, stand-alone systems for automatic testing, or manual test benches. Overall, Evana's custom assembly and test solutions improve efficiency for manufacturers all over the world in industries like automotive, aerospace, defense, healthcare and alternative energy, as well as manufacturers of commercial and consumer products.
For more information about Evana Automation Specialists, visit www.evanaautomation.com. You can also follow Evana on Facebook, Twitter, Google+, LinkedIn and YouTube.
Featured Product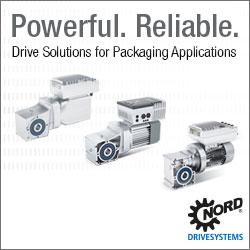 NORD's redesigned line of small CLINCHER parallel gear units showcase increased power and torque capacity for a variety of applications. These re-engineered versions will be replacing the existing SK0182NB, 0282NB, and 1382NB units. They are lightweight, have improved heat dissipation, are more cost-effective, and are available with NORD nsd tupHTM sealed surface conversion for wash-down and extreme environments.