Fall-Protection Leader SixAxis Thrives with Innovative Practices
ANDREWS, S.C., Feb. 4, 2016 /PRNewswire/ -- This week the Institute of Supply Management (ISM) reported that the American manufacturing sector had contracted for the fourth consecutive month. Also reported was that manufacturing employment had dropped to a six-and-half-year low.

One manufacturer bucking these trends is SixAxis and its manufacturing division of various manufacturing of fall-protection safety-related products, including popular industrial brands like SafeRack and ErectaStep. The company has done this with forward thinking that includes the blending of robotics and its culture of technology and customer-focused employees. In fact, SixAxis has achieved:
A reduction in labor rate from 38 percent to 7 percent in the last 10 years - with consistently adding, not reducing, new employees at higher wage rates
A need to hire 100 skilled, non-minimum wage workers
A growth of 500 percent from five years ago
A $20 million investment to expand its Andrews, S.C.-based headquarters on top of a $6 million expansion investment only 2.5 years ago
"We believe through technology that manufacturing can continue to thrive in the United States and eliminate the need to outsource," said Rob Honeycutt, co-founder and CEO of SixAxis. "Our ability to mesh technology and our skilled workforce has allowed SixAxis to provide its customers with a better product, which has led to our growth."
SixAxis is among good company. While smaller in stature than the major automakers, it utilizes the same type of robotic technology in its Andrews facility as Tesla, Honda, Volvo and others. By using these robotics and technology through the entire process - from custom design to finished result - SixAxis can manufacture high-quality, precision-built, customized products to meet its customers' needs with a shortened production cycle that yields more revenue.
This process has made SixAxis' brands a category leader in the fall-protection industry. In fact, nearly every Fortune 500 company has purchased the company's OSHA-compliant products.
These products are sold both internationally and domestically. However, all of the company's products are made in Andrews, S.C.
"We continue to evolve and improve thanks to technology, while adding to the work force here in the United States," said Honeycutt. "We hope other American manufacturers follow this path."
About SixAxis
SixAxis is the holding company for 10 brands that encompass the fall protection, loading platform, sales resource planning and marketing industries. The company is headquartered in Andrews, S.C., and is led by co-founders Rob Honeycutt and Fred Harmon.
SafeRack, ErectaStep, PerfectaStep, RollaStep, YellowGate, ErectaRack, Atlatl Software, Quotebooks, Liquid Transfer Group and Red7 make up the 10 brands of SixAxis. These brands are located in Andrews, S.C., along with satellite offices in Charleston, S.C.; Sumter, S.C.; Georgetown, S.C.; and Kent, England.
To learn more about SixAxis, visit sixaxisllc.com.
Featured Product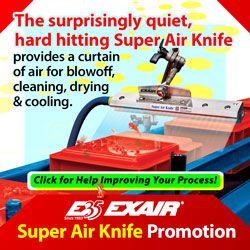 EXAIR Cabinet Cooler® Systems are a low cost, easy to install, maintenance free way to cool and purge electronic control panels. EXAIR Cabinet Coolers incorporate a vortex tube that produces cold air from ordinary compressed air - with no moving parts. The compact Cabinet Cooler can be installed in minutes through a standard electrical knockout. NEMA 12, 4, and 4X (IP54 and IP66) Cabinet Coolers that match the NEMA rating of the enclosure are available in many cooling capacities for large and small control panels. NEMA 12 Cabinet Coolers are ideal for general industrial environments where no liquids or corrosives are present. NEMA 4 Cabinet Coolers incorporate a low pressure relief valve for both the vortex tube and cabinet air exhaust. This valve closes and seals when the cooler is not operating to maintain the integrity of a NEMA 4 enclosure. NEMA 4X Cabinet Coolers offer the same protection as NEMA 4 but are constructed of stainless steel for food service and corrosive environments.