igus will showcase a wide range of solutions for robotic systems, design engineering, and more in booth 3889 at the upcoming show, running February 9-11th.
At the upcoming Pacific Design and Manufacturing trade show, running from February 9-11th at the Anaheim Convention Center, igus will have a range of engineered plastic solutions for advanced manufacturing in booth 3889.

The main focus of the igus booth will be the Triflex range of robotic cable management and retraction systems, including working systems on a full-scale industrial robot. The Triflex system allows for multi-axis cable protection and guidance in all directions. The new Robolink D system, a low-cost and lightweight robotic arm created by igus, will also be in operation, using self-lubricating worm gears and igus stepper motors.
To aid in the long-lasting reliability of robotic systems, Chainflex continuous-flex robotic and Ethernet cables are available, specially designed and extensively tested for multi-axis moving applications.
Self-lubricating PRT slewing ring bearings, which aid in the functionality of many systems, including Robolink D, as well as wide range of tribologically optimized plastic bearing solutions will be available to view and sample. Linear solutions, including DryLin E motorized linear drive systems will also be on display.
A number of product and industry experts from igus will be on hand throughout the show, along with a number of product samples, extensive engineering and product information, and more. To make an appointment with an igus expert at the show, or to learn more about igus trade shows, please visit our trade show page at http://www.igus.com/fairs.
About igus®
igus® develops industry-leading Energy Chain® cable carriers, Chainflex® Motion Cables, DryLin® linear bearings and linear guides, iglide® plastic bushings, and igubal® spherical bearings. These seemingly unrelated products are linked together through a belief in making functionally advanced, yet affordable plastic components and assemblies. With plastic bearing experience since 1964, cable carrier experience since 1971 and Motion Cables since 1989, igus provides the right solution from over 100,000 products available from stock. No minimum order required.
For more information, contact igus at 1-800-521-2747 or visit http://www.igus.com.
Featured Product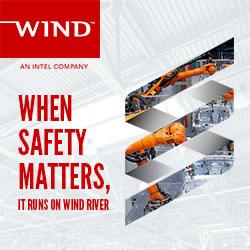 When it comes to ensuring the development of can't-fail systems, Wind River® is a leader with a proven track record of success. With more than 30 years of experience in embedded software and a portfolio of products deployed across more than 2 billion devices, Wind River delivers safety and security when it counts most. From industrial automation to automotive systems, as well as in healthcare devices, railway operations, and throughout the aerospace and defense sector, Wind River has extensive expertise providing built-in safety for complex, connected, safety-critical systems.