Week of activities introduce young people to the value of STEM learning and careers
Research Triangle Park, North Carolina, USA (28 January 2016)—As Engineers Week 2016 approaches, the International Society of Automation (ISA) and its umbrella organization, the Automation Federation, encourage their members and all automation engineers to participate in this annual effort that promotes the value and significance of engineering and engineering careers.

Sponsored and organized by DiscoverE (formerly the National Engineers Week Foundation), Engineers Week, 21-27 February, celebrates how engineers make a positive difference in our world and seeks to raise awareness around the need to attract more young people to the engineering profession.
As a contributing coalition member of DiscoverE, ISA is among more than 70 engineering, educational and cultural societies and more than 50 corporations and government agencies that support Engineers Week and mobilize volunteers to participate in its varied activities.
"Its impressive to realize that 2016 marks the 65th anniversary of Engineers Week," says Patrick Gouhin, ISA Executive Director and CEO. "There are so many valuable DiscoverE programs that are a part of and complement Engineers Week. As I do every year, I ask ISA members and other automation engineers to get involved—whether as a student mentor or classroom speaker, by bringing a class of students to your workplace or through another activity. There are so many ways to participate, not just in February but all year long. Review them on the Engineers Week website."
While Gouhin says much has been achieved in communicating to young people the value of STEM learning and career fields, much more needs to be done. He points to US Department of Education data (www.ED.gov/stem) revealing that low interest among US students in STEM-related education and career fields is placing Americas future competitiveness and inventiveness in jeopardy.
According to the website, only 16 percent of American high school students are proficient in mathematics and are interested in a STEM career. Among those who do pursue a college major in a STEM field, only about half will actually work in a STEM-related career. These realities contribute to Americas poor global ranking among industrialized nations in mathematics (ranked 29th) and science (ranked 22nd). Whats more, a recent survey revealed that only 29 percent of Americans rated this countrys K-12 education in STEM subjects as above average or the best in the world.
"In todays increasingly competitive global economy, its essential that we reverse these trends," Gouhin emphasizes. "As professionals who work in engineering and automation, we must find creative and engaging new ways to inspire young people to engage in STEM-oriented education. By doing so, these students can propel themselves and their country forward through discovery and innovation."
STEM learning and capabilities drive global and personal success
As the "Voice of Automation," the Automation Federation and its 16 member organizations and seven working groups partner with government leaders, educators and private industry to boost awareness around the key role automation and engineering play in advancing society, quality of life, economic growth and opportunities for satisfying, well-paying careers.
"Its so very important that we recognize the value and contributions of engineers and automation professionals because they directly contribute to the quality of life we enjoy," says Michael Marlowe, Managing Director and Director of Government Relations at the Automation Federation. "While the fields of engineering and automation touch so many areas of daily life, so much of what is accomplished by these professionals is simply taken for granted and not acknowledged or celebrated on a regular basis."
This lack of attention, he says, has far-reaching impact.
"Since we dont recognize the achievements of engineering and automation in a powerful way, many young people do not realize their significance to the health of our nation and world, the many exciting advances occurring in these areas, and the diverse and financially rewarding career opportunities that are possible in these fields."
What can you do? Get involved!
Log on to the DiscoverE website to learn about how you can promote Engineers Week and spread the word in your community about the merits of engineering and automation, and STEM-focused career paths.
Thousands of Engineers Week-related events take place across the US each year and are hosted by individuals, professional societies, engineering firms and universities. Popular ways to get involved include:
• Presenting at a classroom or after-school group
• Bringing students to your workplace or campus
• Hosting a public event
• Publicizing your plans in the DiscoverE calendar or on the ISA blog, ISA Interchange
• Getting the word out through social media at www.facebook.com/DiscoverE.org and Twitter@DiscoverEorg
For more great ways on how you can get involved, click here.
DiscoverE also implements a variety of programs associated with Engineers Week, including:
• Future City Competition, a national, project-based learning experience where students in sixth, seventh and eighth grades imagine, design and build cities of the future. More than 40,000 students from 1,350 middle schools typically participate nationwide in the regional competitions. The winning team from each qualifying regional competition receives a trip to the Future City National Finals at the Capital Hilton in Washington DC, 12-17 February 2016.
• Girl Day (25 February 2016), a day that celebrates girls aptitude in STEM learning and shows girls how engineers are changing our world.
• Global Marathon an event (8-10 March 2016) that unites women in engineering and technology fields around the world for globally connected webcasts and locally organized in-person activities.
To stay up to date on all STEM-related initiatives, join leaders from business, education and government at the 2016 U.S. News STEM Solutions National Leadership Conference, 18 May to 20 May 2016 in Baltimore, Maryland. Get all the details at the conference website.
About DiscoverE
The mission of DiscoverE is to sustain and grow a dynamic engineering profession through outreach, education, celebration and volunteerism. DiscoverE supports a network of thousands of volunteers in its partner coalition of more than 100 professional societies, major corporations and government agencies. Together we meet a vital need: introducing students, parents, and educators to engineering, engaging them in hands-on engineering experiences and making science and math relevant. For more information, visit www.discovere.org.
About the Automation Federation
The Automation Federation is a global umbrella organization of sixteen (16) member organizations and seven working groups engaged in automation activities. The Automation Federation enables its members to more effectively fulfill their missions, advance the science and engineering of automation technologies and applications, and develop the workforce needed to capitalize on the benefits of automation. The Automation Federation is the "Voice of Automation." For more information about the Automation Federation, visit www.automationfederation.org.
About ISA
The International Society of Automation (www.isa.org) is a nonprofit professional association that sets the standard for those who apply engineering and technology to improve the management, safety, and cybersecurity of modern automation and control systems used across industry and critical infrastructure. Founded in 1945, ISA develops widely used global standards; certifies industry professionals; provides education and training; publishes books and technical articles; hosts conferences and exhibits; and provides networking and career development programs for its 40,000 members and 400,000 customers around the world.
ISA owns Automation.com, a leading online publisher of automation-related content, and is the founding sponsor of The Automation Federation (www.automationfederation.org), an association of non-profit organizations serving as "The Voice of Automation." Through a wholly owned subsidiary, ISA bridges the gap between standards and their implementation with the ISA Security Compliance Institute (www.isasecure.org) and the ISA Wireless Compliance Institute (www.isa100wci.org).
Featured Product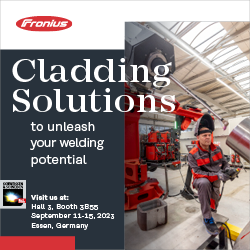 Ever since the invention of our "cold" MAG welding process Cold Metal Transfer (CMT), if not earlier, we have continuously achieved a technological edge in many welding-related areas, resulting in cutting-edge mechanized and automated welding systems. Advanced power source technology stabilizes the arc and ensures perfect welding results. Modern monitoring sensors optimize guidance of the welding torch and compensate for component tolerances. Last but not least, smart data documentation systems assist in perfecting the welding process. Collaborative systems, smart sensor technology, software solutions for data management, and offline programming including welding simulation open up profitable welding opportunities for metal processing companies starting with a single batch. That is why our robotic welding cells prove profitable not only for large companies, but also for small and medium-sized enterprises.