Led by MITs original architects of the Internet of Things (IoT), the new course addresses architectures, technologies and applications of IoT
CAMBRIDGE, Mass.--(BUSINESS WIRE)--MIT Professional Education announced today a first-of-its-kind Digital Program, Internet of Things: Roadmap to a Connected World, to begin on April 12, 2016.

Designed to provide actionable insight for technical professionals across all industries, the six-week online course will explore new research, architectures and applications at the forefront of IoT. Leading the course are esteemed faculty including Sanjay Sarma, dean of Digital Learning and co-chair of the MIT Auto-ID Labs and one of the original architects of IoT at MIT in the 1990s. Also presenting are Daniela Rus, director of MITs Computer Science and Artificial Intelligence Laboratory (CSAIL), as well as other CSAIL researchers and industry experts such as Tim Berners-Lee, inventor of the World Wide Web and founder of the World Wide Web Consortium (W3C), Carlo Ratti, director, MIT SENSEable City Lab and Joseph Paradiso, co-director, Things That Think Consortium, MIT Media Lab
Featuring a holistic, MIT-styled approach to IoT topics, the new course offers a comprehensive overview of both existing and developing core technologies, as well as training and experience in the use of those concepts for real-world applications. Registration for the new six-week program is available online at mitprofessionalx.mit.edu.
"Innovations in IoT, which has its roots at MIT, are driving remarkable new technologies and enhancing existing platforms in almost every major industry," comments Bhaskar Pant, executive director of MIT Professional Education. "The IoT revolution delivers enormous opportunity to savvy technical professionals, many of whom are now leveraging the latest research-based professional education programs like ours on IoT, big data and cybersecurity to gain a unique edge on the job."
The content of this course has relevance to a broad spectrum of industries, and topics covered will be of particular interest to professionals in fields including manufacturing and supply chain, retail, transportation and logistics, energy, agriculture, automotive and telecommunications. Individual modules of the course will explore IoT topics such as RFID, data storage and analysis, security, speech interfaces, smart cities and homes, wearables, location tracking and dozens of additional technologies, applications and architectures.
"MIT is at the forefront of research in the IoT space, ranging from RFID to cloud technologies, from sensors to the World Wide Web," noted Sanjay Sarma, dean of Digital Learning for MIT. "The value of IoT for professionals and their respective industries is the ease of collecting, communicating and coordinating the data from all of the connected devices, and leveraging it. MIT experts are deeply involved in a range of applications of IoT in smart cities, home automation and factory automation, working with national governments, large companies and startup companies."
"The IoT technology has the potential to empower most inanimate objects in our daily lives with extensive sensing, computation and communication capabilities," said Daniela Rus, course co-director and director of CSAIL. "This will profoundly impact how we live, work and play."
Internet of Things: Roadmap to the Connected World is delivered globally via the open-sourced online education platform, edX. MIT Professional Educations Digital Programs provide employees of companies and organizations the ability to undergo training and education in a variety of advanced subjects virtually from anywhere in the world. Upon successful completion of the course, participants will receive an MIT Professional Education Certificate of Completion, Continuing Education Units (CEUs), course materials from all presentations, 90-day personal access to the archived course (includes videos, discussion boards, content and Wiki), a complete course transcript of all course lectures as well as access to MIT Professional Educations expansive professional alumni network and benefits. The course will be offered at the introductory price of $495.
Registration is available at MIT Professional Educations The Internet of Things course website. Individuals across all industries or large groups of employees from the same organization can register for the course.
About MIT Professional Education
For 65 years, MIT Professional Education has been providing a gateway to renowned MIT research, knowledge and expertise through advanced education programs designed specifically for working professionals worldwide who are engaged in the fields of technology and technology management. In addition to its Digital Programs, MIT Professional Education offers professionals the capability to take industry-focused one to five-day sessions on-campus through Short Programs, courses abroad through International Programs, enroll in regular MIT academic courses through the Advanced Study Program or attend Custom Programs designed specifically for corporate clients. Participants are drawn from across the U.S. and around the world, with about 50 percent coming from outside the U.S. Upon successful completion of one of a program, participants receive an MIT Professional Education Certificate of Completion and access to MIT Professional Educations expansive, private professional alumni network, along with other program specific benefits. For more information visit: professional.mit.edu
Featured Product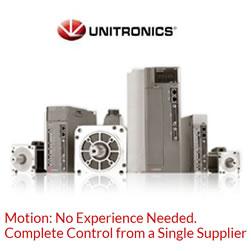 Unitronics' line of AC Servo Drives & Motors changes the traditional approach to motion control. They are simple to set up and painless to program. Unitronics Servos simplify implementation of motion applications while minimizing complexity and reducing development time. Some of the easy-to-use features in this new line include implementing motion control easily with ready-made motion code, embedded diagnostic tools, and automatic communication setup.