Software release includes new 'Cat Bird' algorithm to advance Z-axis precision and integrates cloud services for processing 3D scan data
Oxford, UK & San Francisco, CA - January 21, 2016 - Fuel3D, a leading 3D capture and imaging innovator, today announced the launch of Fuel3D Studio 2.1, the latest version of its software for processing and manipulating 3D scan data captured by the company's SCANIFY product. Key developments include improved Z-axis precision and the ability to process scan data in the cloud; both of these key developments originated from the company's engagement with enterprise partner/customers.

Fuel3D's Cat Bird algorithm improves Z-axis precision on scans, which means that scans are processed with improved depth accuracy. The feature has already been well received by beta testers who have been testing the new cloud services and Z-axis. Crucially, improved Z-axis cloud processing can be applied to previous scan files without the need to re-scan the subject - users simply open any file previously captured by SCANIFY and re-process via the new cloud option in Fuel3D Studio.
The introduction of cloud processing (currently running in beta) helps to remove the burden of 3D scan processing from the user's PC or tablet by executing the new algorithm on Fuel3D's servers. Access to cloud services is provided via a menu function in Fuel3D Studio - users simply need an internet connection to access the free service.
In addition to freeing up local processing resources, this new move into cloud processing also allows Fuel3D to distribute new software quickly, like Fuel3D Studio 2.1 which deploys the new Cat Bird algorithm.
"We are very excited by these new software and service developments, which not only provide immediate benefits to SCANIFY users, but are also hugely relevant to Fuel3D's enterprise business," said Stuart Mead, CEO, Fuel3D. "The benefits of cloud processing are key to the development of 3D scanning solutions, by allowing us to create new 3D algorithms and rapidly deploy enhancements via the cloud."
Side note: Cat Bird is so called because of an interaction between Fuel3D's CIO and a member of the development team. In the early days of developing the cloud solution, what was referred to as a 'behemoth' of development work was misheard as 'bear moth' and so Fuel3D's algorithm-naming regime was born.
About Fuel3D
Fuel3D is a leading 3D capture and imaging business. Its unique, market-leading technology, originally developed in Oxford University, has a broad range of potential applications across multiple industry sectors. The Company's intellectual property allows companies to utilise cost-effective, fast and accurate 3D image capture to improve existing practices, provide enhanced services to customers and gain advantages in their markets. Fuel3D's unique technology captures images at a speed faster than a tenth of a second and offers a unique capability for scanning organic subjects and capturing highly accurate data. www.fuel-3d.com
Featured Product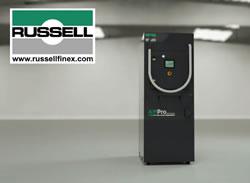 The Russell AMPro Sieve Station™ guarantees the quality of your additive manufacturing (AM) powder, and has been designed to provide optimum sieving efficiency, ensuring your powder is ready for use or reuse as and when you require it. With a simple one-button operation and mobile design, this automated check screener ensures your powder at every stage of the process is qualified for use quickly and safely. The flexibility of the Russell AMPro Sieve Station™ means you can use the system for numerous powder handling tasks - being a modular design ensures the machine can be configured to meet your exact requirements.