Focus is on Next-Gen Interconnect Solutions and a New Path to Development
LISLE, Ill.--(BUSINESS WIRE)--Molex, LLC will showcase its extensive technical expertise and broad product portfolio at DesignCon 2016 Expo and Conference, to be held January 20-21 at the Santa Clara Conference Center in Santa Clara, CA. Demonstrations at Molex booth 817 will highlight products that meet growing demand for increased network bandwidth and advanced technology. The company will also have on display its deep portfolio of products that support a wide-range of data rates in multiple connector sizes and shapes.

"Our interconnect solutions also allow the flexibility and scalability required to meet the needs of next-generation system architectures."
Tweet this
"Molex will focus on solutions that meet the most stringent high-speed performance requirements in the industry," said Jairo Guerrero, director of marketing, enterprise business unit, Molex. "Our interconnect solutions also allow the flexibility and scalability required to meet the needs of next-generation system architectures.
Product Showcase
High-Speed Low-Loss Flex Circuit Assemblies, fabricated using DuPont™ Pyralux® TK flexible circuit material, are designed for electronic data transmission applications, such as servers and high-end computing, storage servers and signal processing.
The NeoPressTM High-Speed Mezzanine System offers system architects design flexibility through a unique triad structure, enabling the universal housing to populate 85 ohm, 100 ohm and power triads in any housing slot. A reliable, high-speed design support systems with 28 Gbps high-speed signal transmissions.
New Impel™ Plus Backplane Connectors provide data rates up to 56 Gbps and include a grounding tail aligner, which allows for smaller signal compliant pins and optimizes signal integrity performance. An innovative signal beam design improves insertion loss compared to in-line beams and pushes interface resonance frequency past 30 GHz.
In addition to these offerings, Molex will be debuting several other new products, including advanced analysis tools and heat dissipation options.
Molex Events
David Brunker, technical fellow, Molex will join other industry experts in a panel discussion titled "Getting Smooth Copper and Keeping It" in Ballroom F on Thursday, January 21 from 3:45pm to 5:00pm. Copper surface roughness has become a defining element in establishing high-speed channels. The session will address the manufacturing of copper foils; discuss the application of smooth foils to PCB laminate materials; provide detail on the PCB fabrication process; and elaborate on the role of standards committees in providing surface metrics, among other topics.
Also, Molex will host a cocktail reception open to exhibition attendees on Wednesday, January 20th from 5:00 pm to 6:00pm in booth 817.
Molex Product Demonstrations
Four demonstrations will take place in Molex Booth 817, including:
Molex and Credo Semiconductor will be demonstrating both 50 Gbps NRZ and 50 Gbps PAM4 live serial traffic. The companies will use a high-speed copper cable to demonstrate the error-free 50 Gbps NRZ and the 50 Gbps PAM4 live serial traffic on the zQSFP™ form factor. Credo will supply transmitting and receiving electronics and will drive a cable assembly using 50 Gbps NRZ and 50 Gbps PAM4 encoded data streams. The demo will use a Molex zQSFP+ cable assembly and a zQSFP+ SMT connector interface.
Impel Backplane Connector System: Molex will be demonstrating the Impel backplane technology operating in compliance to OIF CEI-56G-LR, on various channel lengths using Megtron 6 material and Avago Technologies PAM4 test silicon. The live demonstration will provide critical channel output through a complete high-speed link, leveraging Avagos PAM4 SerDes technology to transmit 56 Gbps PAM4 data through Molex's Impel/Impel Plus copper backplane solution. The Impel backplane connector demonstration will allow customers to witness and engage with Molex and Avagos technical resources to better understand the requirements and challenges related to OIF CEI-56G-LR and how Molex and Avago's innovative solutions can address these requirements.
zQSFP+™ Thermal Management: Molex will demonstrate the latest stacked zQSFP+TM connector thermal management technologies. Featured solutions will be the zQSFP+ Thru-Flow and Internal Riding Heat Sink (IRHS). Molex thermally enhanced products allow customers to select the option that is best suited to their application.
NeoPress High Speed Mezzanine System: Molex will be demonstrating the NeoPress High Speed Mezzanine solution at 28 Gbps. This live demonstration will showcase NeoPress channel performance, and the ease of operating Tektronixs equipment and software. The demonstration will also show customers the rugged and configurable design of NeoPress with mated stack heights 15 to 40mm.
"As a global leader in interconnect solutions, we find that DesignCon provides the right forum to showcase our complete product portfolio and introduce new technologies to our customers in a relaxed, informal environment," said Guerrero. "It is all about the customer experience, and interactive demos allow us to demonstrate key performance features alongside our silicon partners in real channel applications, making it a more hands-on experience."
For more information please visit Molex booth 817 or www.molex.com/molex/products/high-speed/highspeed.action.
About Molex, LLC
Providing more than connectors, Molex delivers complete interconnect solutions for a number of markets including: data communications, telecommunications, consumer electronics, industrial, automotive, commercial vehicle, aerospace and defense, medical, and lighting. Established in 1938, Molex is a global company with a presence in more than 40 countries. The Molex website is www.molex.com. Follow us at www.twitter.com/molexconnectors, watch our videos at www.youtube.com/molexconnectors, connect with us at www.facebook.com/molexconnectors and read our blog at www.connector.com.
Featured Product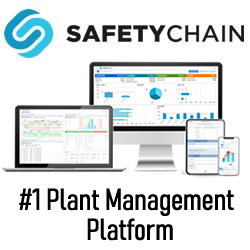 SafetyChain is the #1 Plant Management Platform that improves yield, maximizes productivity, and ensures compliance for process manufacturers. Trusted by over 1,500 facilities, SafetyChain is the only enterprise solution uniting production, quality, safety, and supplier management.