Hands-free SUP706 also ideal for complex parts with delicate features, complex geometries and small crevices --- ULTEM 1010 resin now available also for Fortus 400mc and 450mc 3D Production Systems
MINNEAPOLIS & REHOVOT, Israel--Stratasys Ltd. (Nasdaq:SSYS), the 3D printing and additive manufacturing solutions company, introduced a new soluble support material called SUP706 for PolyJet triple-jetting 3D printers. The new support material significantly reduces the time and manpower required to clean 3D printed models, enabling companies to efficiently scale-up to high volume production.

SUP706 automates post-processing of 3D printed parts with a simple two-step, soak-and-rinse process, giving users the ability to maximize productivity while achieving a low cost-per-part. High-production environments including service bureaus and internal prototyping shops will experience a faster and easier support material removal process.
"The development of SUP706 provides a great combination of advantages for 3D printing users," said David Tulipman, director of product management for PolyJet consumables at Stratasys. "Owners of PolyJet-based 3D printers can now print small, intricate features with greater reassurance, and clean several parts at once, enabling high volume 3D printing thats both cost-effective and hassle-free."
SUP706 is available as a software update on all Stratasys PolyJet Triple-Jetting 3D Printers (Objet260 1/2/3; Objet350/500 1/2/3; Objet260/500 Dental Selection) and is compatible with all PolyJet materials, excluding hearing aid material.
ULTEM 1010 Resin Available on Fortus 3D Production Systems
Stratasys now offers ULTEM 1010 resin also for the Fortus 400mc and 450mc 3D Production Systems, which has been previously available for the Fortus 900mc 3D Production System. Added to the Stratasys material portfolio in 2014, this high-performance FDM thermoplastic offers the best heat resistance, tensile strength and chemical resistance of any FDM thermoplastic. ULTEM 1010 resin is also bio-compatible per ISO-10993 and has food-contact certification of USP Class VI - food contact (NSF 51). ULTEM 1010 resin is compliant with FST regulation.
Ideal for aerospace, automotive, food processing and medical device applications, ULTEM 1010 resin combines strength and thermal stability for advanced industrial tooling. Applications for aerospace and automotive include clips, housings and ducts. Food production tools include patterns, dies and fixtures. Custom medical tools include surgical guides, fixtures and trays.
For more than 25 years, Stratasys Ltd. (Nasdaq:SSYS) has been a defining force and dominant player in 3D printing and additive manufacturing - shaping the way things are made. Headquartered in Minneapolis, Minnesota and Rehovot, Israel, the company empowers customers across a broad range of vertical markets by enabling new paradigms for design and manufacturing. The companys solutions provide customers with unmatched design freedom and manufacturing flexibility - reducing time-to-market and lowering development costs, while improving designs and communications. Stratasys subsidiaries include MakerBot and Solidscape and the Stratasys ecosystem includes 3D printers producing prototypes and parts; a wide range of 3D printing materials; parts on-demand via Stratasys Direct Manufacturing; strategic consulting and professional services; and Thingiverse/GrabCAD communities with 5+ million free design components, printable files. With 3,000 employees and 800 granted or pending additive manufacturing patents, Stratasys has received more than 30 technology and leadership awards. Visit us online at: www.stratasys.com or http://blog.stratasys.com.
Featured Product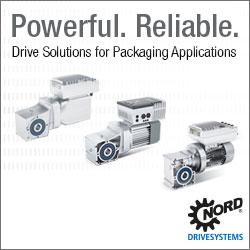 NORD's redesigned line of small CLINCHER parallel gear units showcase increased power and torque capacity for a variety of applications. These re-engineered versions will be replacing the existing SK0182NB, 0282NB, and 1382NB units. They are lightweight, have improved heat dissipation, are more cost-effective, and are available with NORD nsd tupHTM sealed surface conversion for wash-down and extreme environments.