Company will speak about lean manufacturing and operational excellence
Romeoville, Ill. November 16, 2015 -- Nanophase Technologies Corporation, a technology leader in nanomaterials and advanced nanoengineered products, has been invited to speak at the American Manufacturing Strategies Summit in Orange County, Calif., Nov. 17-18. The summit combines market intelligence with panel discussions and industry presentations on the latest manufacturing advancements.

H. Glenn Judd, Nanophase vice president of operations, will discuss developments and trends in lean manufacturing, operational excellence and continuous improvement.
"Nanophase Technologies takes great pride in the efficiencies that Glenn's team has developed in these areas, as they have turned our company into a world class manufacturing organization. Our manufacturing capabilities continue to be viewed as one of our core strengths and an important way to help our customers succeed," said Nanophase CEO Jess Jankowski. "We are proud to participate in the American Manufacturing Strategies Summit, and of course, of our strong operations and manufacturing team."
About Nanophase Technologies
Nanophase Technologies Corporation, located in Romeoville, IL, is a global provider of engineered nanomaterial solutions across a broad range of markets, including personal care, coatings, energy storage and surface finishing. Using a platform of patented and proprietary technologies, the company develops and manufactures products from two ISO certified facilities that enable our customers to create sustainable, competitive advantages and expand into new markets. For more information, visit http://www.nanophase.com.
Featured Product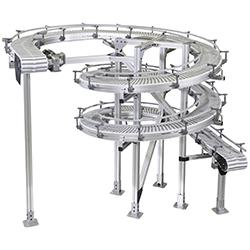 Dorner's 2200 Series SmartFlex Helix Conveyor's compact, flexible design and small footprint maximizes valuable floor space while providing customers with flexibility in layout. The custom infeed and outfeed lengths allow the conveyor to extend beyond the spiral, reducing the number of conveyors required. The Helix Conveyor is ideal for applications including accumulation, buffering, cooling between processes or machines, and more!