Integrated drive solutions and engineering software deliver superior value and performance in real-world packaging machine applications
UXBRIDGE, MA - November 16, 2015 - Lenze, a global manufacturer of electrical and mechanical drives, motion control and automation technology, is committed to helping the packaging industry meet demand for integrated automation and robotics motor drive solutions. Designed to simplify control automation in modern packaging line operations, Lenze drive solutions serve a range of applications, including conveyor belts, pick-and-place robots, forming, box erectors, side- and top-loader filling and sealing machinery, and carton palletizing.

"Lenze brings over six decades of experience developing innovative motor drive solutions for packaging," states Doug Burns, director of business development, Lenze. "Customers know they can trust our high-performing, economical solutions to deliver precision control from the drive shaft to the control system to advanced visualization systems."
Todays machine builders for packaging operations are on the forefront of automation. Bottom-line machine costs come dowin to the drive shaft, gearing and motor, inverter or servo drive. Robots are increasingly common in the packaging industry, which creates additional challenges to integrate the control system or individual kinematics into the automation system. Lenze modular automation systems for centralized controller-based and decentralized drive-based platforms utilize EtherCAT, PLCopen and other industry standards to simplify machine integration into packaging automation topologies. Featuring a practical engineering approach, Lenze guides customers in the design, selection of components and implementation of a packaging machine or automation architecture.
Lenze provides reliable drives and motors for roller, belt, screw, ejector and circular conveyors. Constant speeds for bulk materials are achieved using geared motors. Inverter drives adapt conveyor speeds for a dynamic flow of goods. Lenze drives deliver precision tension control for winding and unwinding machine processes. Rotary and linear positioning drives are ideal for packaging tasks that require moving goods to defined target positions. Suitable for overhead and gantry cranes and storage and retrieval units, traveling drives are equipped for moving payloads on a horizontal or inclined level. Lenze fully dynamic electronic cams convert linear position information into cam-shaped motion profiles. A path-controlled profile generator allows for smooth, low impact motions in non-linear movements to increase productivity and improve dynamic performance.
Easy Drive Solution Dimensioning (DSD) is just one of the practical engineering tools in the Lenze suite of FAST Application Software that spans the packaging machine lifecycle. DSD makes sophisticated and complex dimensioning expertise available in an easily comprehensible way. Designed to reduce packaging machine development time and turnkey system integration, Lenze FAST Application Software modules and templates make it easier to develop robots and other modular mechanical control. The newest FAST programming modules bring easy robot kinematics and multi-axis coordination to gantry pick-and-place applications in packaging.
"New supply chain models and shorter production cycles require packaging solutions that are more agile and flexible than ever before. Lenze delivers superior value through our integrated product portfolio and powerful design tools based on real-world packaging requirements," adds Burns.
Featured Product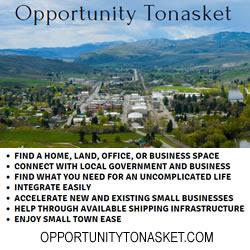 Our primary mission is to promote economic development and growth in the city of Tonasket, WA and surrounding area. This is a group of local citizens sharing a common goal. We wish to assist and promote existing businesses wishing to relocate, local businesses wishing to expand and local individuals wanting to startup a business. Preserving and enhancing the small town and rural lifestyle in a way which benefits everybody and maintains a healthy lifestyle. Opportunity Tonasket was created to be a hub for information and contacts with local city and county agencies, as well as local businesses and real estate connections. Their goal is to connect current and newly relocated individuals and businesses and "plug them in" with the best services, advice and experts in the area. Opportunity Tonasket is like a leg-up, as if one's already had a foothold in the community.