Robotic Additive Manufacturing Platform Enables 3D Printing of Complex Composite Parts for Applications in Defense, Aerospace and Other Demanding Industries
SANTA CLARA, Calif.--Arevo Labs, a leader in composite additive manufacturing technology, has introduced a scalable Robot-based Additive Manufacturing (RAM) platform for fabricating 3D printed composite parts.

The first-of-its-kind solution consists of a standard commercially available robot, composite deposition end-effector hardware and a comprehensive software suite. Arevos solution is tailored to ABBs smallest 6-axis robot, the IRB 120, though the scalable software can support larger ABB robot models and sizes. The additive end-effector hardware consists of a deposition head with advanced thermal management technology for processing high-performance carbon- fiber reinforced thermoplastics.
Arevos software suite includes:
* CAM software to convert CAD models to a set of additive deposition instructions for the robot. Software is capable of six degrees of freedom, enabling true 3D additive manufacturing.
* A precise kinematics simulator that interprets deposition instructions to validate and optimize part construction.
Arevo Labs RAM Platform interfaces with ABBs RobotStudio™ programming and simulation software to ease tool path generation from CAD files.
The platforms multi-axis toolpaths enable, for the first time, production quality parts constructed with true 3D surfaces in variable orientations. The resulting parts have strength and aesthetics superior to those made with conventional Cartesian based additive manufacturing equipment and software.
In addition to expanded design possibilities, the Arevo Labs Robotic Additive Manufacturing Platform maximizes size scalability and production efficiency. Key enabling technologies include automation and secondary process integration within manufacturing work cells. Depending upon the size of the robot, the part build envelope is scalable from 1000 cubic millimeters to 8 cubic meters.
"We are excited to be the first to develop a robot based additive manufacturing platform optimized for composite parts," said Hemant Bheda, CEO and founder of Arevo Labs. "Unencumbered by the constraints of conventional Cartesian systems, this platform is the dawn of the additive manufacturing work cell for the aerospace and defense factory-of-the-future."
"Our ABB IRB 120 robot is perfectly suited for the Additive Manufacturing Platform, offering the high precision and repeatability required for 3D printed parts for end-use applications. We are glad to see ABBs robot performance and capabilities being fully utilized with Arevo Labs software in printing true 3D surfaces," said Nicolas De Keijser, new applications business line manager at ABB.
Arevo Labs robotic additive manufacturing platform can be seen on YouTube:
https://youtu.be/67x9dhrJlgw
About Arevo Labs
Arevo Labs (www.arevolabs.com) based in Silicon Valley, California, develops technology to enable direct digital additive manufacturing of ultra-strong composite parts for end use applications. Arevos technology consists of advanced composite materials, deposition technology and software algorithms to optimize mechanical properties of printed parts. Arevo offers additive manufacturing services, additive software and composite materials to OEMs worldwide.
For more information on Arevo Labs, visit www.arevolabs.com or contact Hemant Bheda via email at hemant@arevolabs.com
About ABB Robotics
ABB Robotics (www.abb.com/robotics) is a leading supplier of industrial robots - also providing robot software, peripheral equipment, modular manufacturing cells and service for tasks such as welding, handling, assembly, painting and finishing, picking, packing, palletizing and machine tending. Key markets include automotive, plastics, metal fabrication, foundry, electronics, machine tools, pharmaceutical and food and beverage industries. A strong solutions focus helps manufacturers improve productivity, product quality and worker safety. ABB has installed more than 200,000 robots worldwide.
For more information on ABB Robotics, visit www.abb.com/robotics or contact Nicolas De Keijser at nicolas.de-keijser@us.abb.com
Featured Product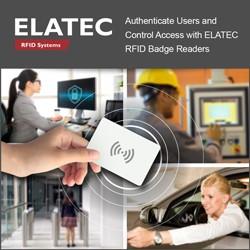 With a tap of the badge, RFID readers from ELATEC provide secure, reliable and easy-to-use user authentication, access control and usage tracking of hardware and software in industrial automation processes. Reader durability in harsh plant floor environments is another essential feature. Choose the right authentication and access control solution and extend RFID card-based capability for the access control of PLC, robot and HMI automation controller software and devices requiring special operator training.