Providing Advanced Technology to the Semiconductor Industry
SAN LUIS OBISPO, Calif., Nov. 10, 2015 -- Trust Automation, Inc., known for standard and custom motion and motor control systems and solutions, today announced that they are providing Ultra High Vacuum (UHV) Robots to ReVera, a Nova Company. Trust Automation brings their dynamic and innovative engineering capabilities to support their customers' semiconductor programs that are continually demanding increased precision and faster throughput.

Trust Automation's UHV Wafer Handling Robot was successfully and fully integrated with ReVera's tool, providing ReVera with the ability to meet their customers' production requirements.
Trust Automation's 8 axis UHV robot is:
* Fully customizable
* 300mm precision in-chamber wafer handling and positioning system configured for metrology processes
* Capable of absolute X and Y precision to less than +/- 2.5 micrometers over the full wafer envelope and less than +/- 0.2 micrometers for the 50mm Z axis
"We applied our 25 years of experience to develop this robot for ReVera that will meet today's market demands for performance, reliability, and accuracy," said Dave Rennie, Vice President of Business Development at Trust Automation. "Our UHV robot is a solution to the semiconductor industry's balancing act of demanding the highest quality and throughput while keeping the cost low."
Trust Automation is an ISO 9001:2008 certified Women-Owned Small Business (WOSB) bringing high quality and reliability to the motion and motor control needs of multiple industries.
Additional information about Trust Automation's proven track record can be found at http://trustautomation.com.
About Trust Automation
Trust Automation operates on a foundation of exceeding its customers' expectations in automation systems, developing standard and custom motion and motor control solutions for the defense, semiconductor, industrial automation, green tech, and medical industries. Trust Automation has ongoing success with DARPA, IARPA, and DoD contracts. Trust Automation has almost 25 years of experience in; custom motors, controllers, motor drives and machine systems which meet the unique needs of its customers. Its product line includes; linear and digital drives, high performance servo motors, standalone motion controllers, custom assemblies and products, engineering services, and custom battery management systems to fit unique applications and ground-up system design and manufacturing solutions. For more information please visit www.trustautomation.com or call 805-544-0761.
Featured Product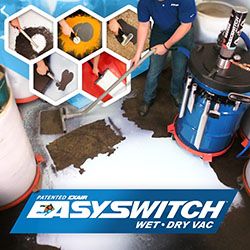 Super Air Wipe provides a uniform 360┬░ airstream that is ideal for blowoff, drying, cleaning & cooling of pipe, cable, extruded shapes, hose, wire and more. The split design offers easy clamping around the surface of the material moving through it. https://exair.co/184_525