2015 FABTECH show Chicago from Nov. 9-12
GRAND RAPIDS, Mich., Nov. 10, 2015 -- Eisele Connectors, a subsidiary of one of the world's leading suppliers of high-quality, all-metal connectors - Eisele Pneumatics GmbH & Co. KG of Germany - will showcase its LIQUIDLINE fittings for use in closed cooling systems in harsh welding environments at its booth (#N9107) during the 2015 FABTECH show Chicago from Nov. 9-12.

The fittings, which are manufactured from a solid dezincification-resistant brass alloy for cooling water of pH 5, are more resistant to corrosion than traditional fittings and can stand up to high temperatures, high flow and aggressive aqueous media. The fittings also feature an innovative protective "release sleeve" to avoid weld spatter build-up.
"We're thrilled to be able to provide the North American market with our high-quality, durable, easy-to-install coolant connectors and accessories, and to demonstrate why manufacturers in Europe, especially those in the automotive industry, have relied on our solutions for decades," said Michael Jones, director of sales, Eisele Connectors.
Fittings from Eisele's LIQUIDLINE range are additionally available in aluminum (sea water-resistant), 316 stainless steel and 304 stainless steel for less aggressive media and in a variety of thread options including BSPP - G Thread, BSPT - R Thread (with and without PTFE thread sealant), Metric Thread and Industrial NPT threads.
The product offering also includes flame-retardant and abrasion-resistant ProWeld hoses made of polyether-polyurethane that can be used for high stress conditions, like those that occur in welding applications. Accessories include color-coded sleeves to eliminate the risk of incorrect connections, an adapter for the transition from pipes to hoses, and special parts for the transition from oval copper cooling coils to hoses.
From its North American warehouse and its growing service and distribution network, Eisele can quickly supply customers in the automotive, pharmaceutical, food & beverage manufacturing industries - drawing from a broad portfolio of engineered connection components for pneumatics, vacuum, liquid, gases and electronic equipment that spans more than 5,000 catalog items and more than 2,000 custom solutions.
Fittings and accessories from Eisele can be used in many applications, including on equipment used in automotive and aerospace assembly, mechanical and electrical engineering, paint & varnish applications, food & pharmaceutical production, packaging, welding, wind energy production and more.
To learn more about FABTECH, North America's largest metal forming, welding and finishing event, please visit: http://www.fabtechexpo.com/
About Eisele Connectors
Eisele Connectors, Inc. is a subsidiary of Eisele Pneumatics GmbH & Co. KG, which emerged from a company founded in 1939. With more than 70 years of experience in precision machining, Eisele is one of the world's leading suppliers for high quality all-metal connectors and developing custom connector solutions.
Drawing from the company's proven German manufacturing depth, Eisele's North American facility keeps a robust stock of products and can optimally supply its customers and respond quickly to fulfill needs. The company is part of a global logistics network that guarantees fast availability of products to the global market and is a member of the American Welding Society (AWS), the Society of Automotive Engineers (SAE), the Society of Manufacturing Engineers (SME) and the Association for Hose Accessories Distribution (NAHAD).
Learn more at http://www.eisele-connectors.com/
Featured Product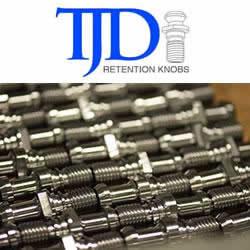 The retention knob or pull stud is a critical component to the tool holder's performance and cutting tool life. T.J. Davies' retention knobs are the highest quality retention knobs on the market. Our retention knobs, also called pull studs, are made in American from American drawn steel. For over 50 years, we have been second to none. We utilize 8620 and 9310 alloy steel for its high tensile strength to withstand strong centrifugal force, high load force, high feed rate, and difficult-to-machine material in the era of current CNC machining environment. As the forces exponentially increase, precision and strength in machining and tooling requires a higher quality of the retention knob or pull stud connecting the spindle to the tool holder.