Patti Engineerings Vice President of Texas Operations, Steve Palmgren P.E., and Senior Engineer, Nicholas Hitchcock P.E., to present water and wastewater project success story utilizing Phoenix Contacts high powered wireless 'Radioline communication technology.
Auburn Hills, MI and Houston, TX November 03, 2015 -- Patti Engineering, Inc., a leader in control systems integration, today announced it will give a presentation this week at the System Integrator Industry and Technology Forum hosted by its partner, Phoenix Contact, at the companys Customer Technology Center in Houston, TX. Phoenix Contact is a global market leader for components, systems, and solutions in electrical engineering, electronics, and automation. Patti Engineering has been a certified Phoenix Contact System Integrator since 2003.

The Industry and Technology Forum will take place November 4-5, 2015. The event will provide attendees the opportunity to network with industry and technology experts and will cover various topics, from wireless and industrial network security to various industry application solutions.
On Wednesday, November 4th at 2:00 p.m. CDT, Patti Engineerings Vice President of Texas Operations, Steve Palmgren P.E., and Senior Engineer, Nicholas Hitchcock P.E., will share technical details of how Phoenix Contacts high-performance Radioline 900 MHz wireless technology provided powerful non-line-of-sight remote monitoring communication to successfully complete a water and wastewater infrastructure automation project.
In the project referenced for the presentation, Patti Engineering designed and implemented a new supervisory control and data acquisition (SCADA) system and human machine interfaces (HMIs) to allow for central control and management of equipment. Older equipment controls were replaced with the latest generation of programmable logic controllers (PLCs) at the citys wells, lift stations, and elevated storage tanks to ensure accurate and timely wireless communications through Phoenix Contacts Radioline 900 MHz technology to the new SCADA system.
Patti Engineering provides turnkey services for water and wastewater projects. Patti Engineerings solutions include energy-efficient components and intelligent control systems to drive down costs and enhance productivity of treatment plants enabling municipalities and industrial companies to reduce water and wastewater related operating costs while enhancing plant performance.
About Patti Engineering, Inc.
Patti Engineering, Inc. is a CSIA Certified control systems integration company offering high-caliber engineering and software development services. Patti Engineerings technical expertise in electrical control and information systems provides turnkey control systems integration for design/build, upgrade/retrofit and asset/energy management projects. Industrial automation, production intelligence and shop floor IT solutions services include: project management, electrical engineering, hardware design, hardware procurement, software development, installation, calibration, start-up testing, verification, documentation, training and warranty support. Customer satisfaction and project success earned the company Control Engineering Magazines 2013 System Integrator of the Year. For more information, visit http://www.pattieng.com.
Featured Product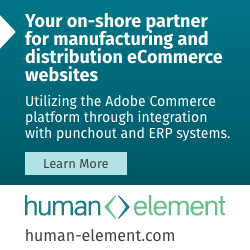 With Human Element, you will build a strategic partnership with experienced on-shore strategists and developers who understand the pain points unique to manufacturers and distributors. Using Agile methodologies and proven eCommerce website development strategies, our team positions clients for success.