New 3D printing and laser etching capacity helps Touch International rapidly develop complete touch screen display solutions through rapid prototyping, shortening product development lifecycles, increased quality control, and an optimized supply chain.
Austin, Texas October 29, 2015 -- Touch International announced today that it has added 3D printing and increased laser etching capacities to its Austin, Texas, manufacturing and design center to aid in the development of rapid prototyping for custom touch screen display solutions.

The increased capabilities are part of the company's evolution from touch screens, EMI filters and display enhancements, to developing complete touch displays that include a bezel, video controller boards, metal frames and backers, gaskets, and even single board computers . Focusing on professional grade products, TI targets high reliability markets such as medical, military, industrial, aerospace, transportation, and more. Vertically integrated manufacturing capabilities, strategic acquisitions, and extensive experience allow TI to quickly engineer products that meet or exceed stringent industry requirements and certifications.
"Our 3D Printing and laser etching services give our customers more options so that they can perfect the end products look, feel and functionality in a reduced amount of time without having to coordinate multiple vendors," explains Shaun Detmer, director of Marketing, Touch International. "While our competitors continue to outsource manufacturing, we continue to drive our vertical integration capabilities and control every step of the development process while simultaneously optimizing our supply chain and quality control."
The 3D printing and rapid prototyping capabilities, also known as additive manufacturing, will help shorten costly product development lifecycles and improve design testing and verification, saving customers time and money on product development and testing, getting products to market faster, and building a better end-user experience. 3D printing and additive manufacturing also reduce the amount of waste thats produced during the manufacturing process, printing only what is needed, layer by layer, making the process environmentally friendly and cost effective.
3D printing and other forms of additive manufacturing for rapid prototyping is currently used primarily by OEMs (Original Equipment Manufacturers), such as Touch International, to build prototypes in the military, aerospace, medical and automotive spaces. Analysts at Wohlers Associates expect the rapid prototyping market to grow 300% over the next decade jumping from $1.5 billion in 2012 to more than $5 billion by 2020 as applications grow from rapid prototyping into full-scale production for some medical and aerospace devices. (1)
About 3D Printing, Rapid Prototyping and Additive Manufacturing
The term rapid prototyping is typically used in association with additive manufacturing and 3D printing technologies and is commonly applied at the beginning of a product life cycle to create prototypes or parts that can be used to test or verify designs before full blown production begins. 3D printers work off of a 3D CAD design (computer model) and "print" very thin 2D layers on top of each other to form a 3D physical object. (2)
About Touch International
Touch International, headquartered in Austin, Texas, was founded in 2002 by Michael Woolstrum and long-time veteran, Gary Barrett, the companys CTO. TI has become a world leader in professional grade touch screen display manufacturing. The company operates its engineering and design facility and corporate headquarters in Austin, Texas, as well as a high volume production facility located in Shenzhen, China.
(1) http://www.siemens.com/innovation/en/home/pictures-of-the-future/industry-and-automation/Additive-manufacturing-facts-and-forecasts.html
(2) https://www.solidconcepts.com/applications/rapid-prototyping/
Featured Product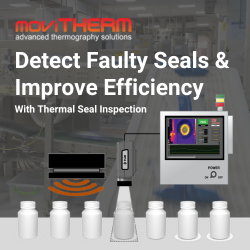 MoviTHERM's Thermal Seal Inspection (TSI) solution provides precise and reliable detection of defects in a variety of packaging types, including pouches, bags, blister packs, bottle caps, and more. By detecting defects in your packages, the TSI solution helps increase efficiency in your production line and ensures top-quality packaging is delivered to your customers every time. With state-of-the-art technology and an experienced team, MoviTHERM is dedicated to delivering accurate inspection solutions and peace of mind to its clients. Contact MoviTHERM today to learn more about their thermal seal inspection solution.