Stäubli is pleased to announce two new additions to the Stäubli Robotics team.
Geoffrey Valenzuela has been named Southwest Regional Sales Manager.

Valenzuela has over 14 years' experience in Industrial Automation sales and outstanding leadership skills. He has also served as an Officer in the US Army. He will be handling the southwest territory of the US beginning September 1, 2015. Valenzuela holds a Bachelor of Science degree in Robotics and Automated Manufacturing.
"We are confident that his technical capabilities and knowledge of the industry will be an asset to both our company and our customers." stated Sebastien Schmitt, Staubli Robotics Division Manager.
Kent Dixon has been named Sales Manager for Texas, Louisiana, Arkansas, and Oklahoma.
Dixon holds a B.S. degree in Mechanical Engineering from Texas Tech University. His background includes: mechanical design, applications engineering, project management and capital equipment sales. He has worked with customers in a wide range of manufacturing sectors, providing equipment solutions tailered to the customers needs.
Stäubli Robotics continues to grow in North America offering clean, consistent, high performance robots focusing on the Food and Beverage, Pharmaceutical, Automotive and Life Sciences industries.
Featured Product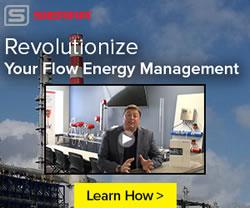 Sierra Instruments announces the launch of its new flow energy solution for managing and optimizing flow measurement for industrial facilities of all sizes. It features Sierra's QuadraTherm 640i/780i thermal flow meters, their InnovaMass 240i/241i vortex flow meters, and their new InnovaSonic 207i ultrasonic flow meter. Designed, built, and calibrated in the USA by Sierra, the Big-3TM share the same revolutionary Raptor firmware and many of the same software apps. They are a complete flow energy solution for flows like compressed air, natural gas, steam, and hot and chilled water. Together, they set a new standard in ease-of-purchase, performance, accuracy, reliability, and ease of use.