Stäubli is pleased to announce two new additions to the Stäubli Robotics team.
Geoffrey Valenzuela has been named Southwest Regional Sales Manager.

Valenzuela has over 14 years' experience in Industrial Automation sales and outstanding leadership skills. He has also served as an Officer in the US Army. He will be handling the southwest territory of the US beginning September 1, 2015. Valenzuela holds a Bachelor of Science degree in Robotics and Automated Manufacturing.
"We are confident that his technical capabilities and knowledge of the industry will be an asset to both our company and our customers." stated Sebastien Schmitt, Staubli Robotics Division Manager.
Kent Dixon has been named Sales Manager for Texas, Louisiana, Arkansas, and Oklahoma.
Dixon holds a B.S. degree in Mechanical Engineering from Texas Tech University. His background includes: mechanical design, applications engineering, project management and capital equipment sales. He has worked with customers in a wide range of manufacturing sectors, providing equipment solutions tailered to the customers needs.
Stäubli Robotics continues to grow in North America offering clean, consistent, high performance robots focusing on the Food and Beverage, Pharmaceutical, Automotive and Life Sciences industries.
Featured Product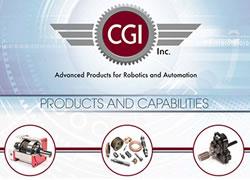 From Prototype to Production CGI Motion enables design excellence across a wide range of industrial applications. We thrive on customer driven innovation in precision gearbox, precision machined components and electro-mechanical assembly solutions ranging from aerospace systems to semiconductor applications. We are your design and manufacturing partner helping to differentiate your product, machine or innovation. Our team of problem solving engineers and product managers can bring your application to market on time and under budget. Whether it's an improvement on a current design or groundbreaking new designs, CGI has the know-how and team to enable design excellence. Connect with us today to explore what CGI Motion can do for you.