The GP 6 S spindle gear is suitable for a wide variety of linear drive solutions.
The maxon GP 6 S spindle gear

The GP 6 S micro spindle gear has a diameter of six millimeters and is now also available in a metal version to provide a spindle drive with optimized value.
Spindle drives are the perfect solution for linear positioning systems, lens adjustment, or syringe pumps. If the drive also has to be compact, then maxon motors GP 6 S spindle gear is the perfect choice. To provide a cost-effective alternative to the ceramic version, it is now also available with a metal spindle.
Combinations with maxon DC motors
The GP 6 S spindle gear is suitable for a wide variety of linear drive solutions. The maximum feed velocity is 15 mm/s, at a force of 10 N. Integrated ball bearings ensure that this drive stands up to high axial loads. The gear easily combines with the maxon DC brushed motor (RE 6) and DC brushless motor (EC 6).
More data and details about the new metal version of the GP 6 S spindle gear are available online at Maxon's website.
Featured Product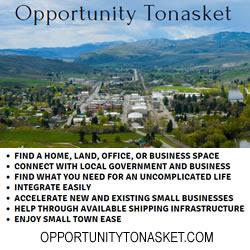 Our primary mission is to promote economic development and growth in the city of Tonasket, WA and surrounding area. This is a group of local citizens sharing a common goal. We wish to assist and promote existing businesses wishing to relocate, local businesses wishing to expand and local individuals wanting to startup a business. Preserving and enhancing the small town and rural lifestyle in a way which benefits everybody and maintains a healthy lifestyle. Opportunity Tonasket was created to be a hub for information and contacts with local city and county agencies, as well as local businesses and real estate connections. Their goal is to connect current and newly relocated individuals and businesses and "plug them in" with the best services, advice and experts in the area. Opportunity Tonasket is like a leg-up, as if one's already had a foothold in the community.