The exposition is expected to attract 2,500 international visitors.
On 2 - 4 February 2016, The Hague will host the second edition of the European trade fair The Unmanned Systems Expo (TUSExpo) at the city's World Forum. TUSExpo is aimed at the fast-growing market for unmanned systems such as drones and will feature both commercial and civil applications in areas including security, agriculture, industry, science, entertainment and environmental protection. The exposition is expected to attract 2,500 international visitors.

The TUSExpo business platform will include a conference, trade exhibition, and matchmaking programme. During the conference, leading international experts from the business world, science, and government will speak about the latest technologies, their applications as well as relevant legal issues. The trade exhibition and 'live demonstration zone' will demonstrate to visitors the possibilities offered by unmanned systems. There will also be a university zone and a unique start-up pavilion for innovative start-ups.
Deputy Mayor van Engelshoven (Knowledge Economy, International Affairs, Youth and Education): "it is great to see TUSExpo choose The Hague again as their conference destination. It shows that the city of The Hague and the security cluster The Hague Security Delta (HSD) are recognised internationally as the place to be for developments in the field of security."
With more than 1,500 visitors and 75 journalists covering the trade fair, the first edition of TUSExpo in February 2015 was a great success. Organisers Anoeska Hagenstein, Martijn van Dijk, and Niels Westendorp have deliberately chosen for The Hague to also host the second edition: "The support the Municipality of The Hague, InnovationQuarter, and security cluster The Hague Security Delta offer played an important role. These parties recognise the importance of the unmanned systems industry, which is developing rapidly not only nationally but especially also on an international level."
www.tusexpo.com www.thehaguesecuritydelta.com
For more information about TUSExpo, please contact Niels Westendorp or Anoeska Hagenstein at emails N.westendorp@tusexpo.com / A.Hagenstein@tusexpo.com
Featured Product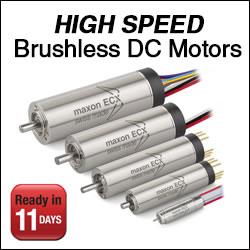 maxon motor launches new high-speed motors that are configurable online. The new ECX brushless motors are quiet and feature very high efficiency. The ECX motors are available with diameters of 8, 16 and 19 mm achieving speeds of up to 120,000 rpm. They run very smoothly and are highly efficient. With maxon motor's online configurator, it is easy to put together a customized DC motor to include gearhead, encoder and controller. The customized motors are ready to ship in 11 days!