Pennsylvania Precision Cast Parts (PPCP) has completed the installation of two additional robotic dipping systems used in making investment casting ceramic shells with enhanced consistency and quality.
Lebanon, PA April 30, 2015

Pennsylvania Precision Cast Parts (PPCP), an industry-leading investment casting company located in Lebanon, Pa., has installed two additional robotic dipping systems that are used to make investment casting ceramic shells. The state-of-the-art equipment and computer controls enhance quality, consistency and efficiency through advanced automation.
View the time-lapse video of the installation and operation of PPCPs new robotic dipping systems.
"At PPCP, we are constantly working to provide our customers with even higher levels of quality and value," says Andrew Miller, President and CEO of PPCP. "Adding two more cutting-edge robotic dipping systems is a great example of our commitment to continuous improvement."
PPCPs new systems were fabricated and programmed by KEA Automation and utilize advanced Kawasaki robotic arms. The versatile robotic arms have been specially integrated into the system by KEA Automation to meet PPCPs specific needs and requirements. Each individual part made for PPCP customers will have its own unique program to control the robotic system.
"Our new robotic dipping systems provide streamlined, continuous operation, which enables us to deliver highly reliable castings to our customers," says Miller. "They are valuable additions to our capabilities."
While production of a large majority of the parts PPCP casts will include robotic dipping, manual processes are also utilized when they are optimal for the specific application.
Company Information - Pennsylvania Precision Cast Parts (PPCP) is an industry-leading manufacturer of top-quality investment castings for a broad range of parts, industries and applications. PPCP has the experience, technical expertise and quality-assurance processes necessary to consistently and reliably deliver castings up to 250 pounds in an extensive array of alloys, from steel and aluminum to highly specialized materials. Located in Lebanon, Pa., PPCP has two fully equipped facilities, cutting-edge equipment and technology, advanced processes and one of the most experienced teams in the industry. PPCP delivers investment casting excellence through exceptional People, Process and Performance.
Featured Product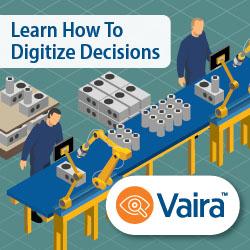 A unique distillery uses Pleora's Visual Inspection System to maintain brand quality standards and reduce errors that increase operating costs and slow production. To help ensure brand consistency, the distillery uses Pleora's AI-based Visual Inspection System to add decision-support for manual labelling processes. The camera-based system integrates pre-packaged AI plug-ins that are easily trained on a customer's unique requirements to visually highlight product differences and deviations for operators and inspectors on a display. The distillery trained the Image Compare plug-in to identify key brand elements on the bottle, with a real-time on-screen image overlay then guiding operators as they manually place the emblem. In addition, the system can be used as a training tool to teach new employees on brand quality standards.