Brooks Instrument will contribute insights and precision fluid control technology to the Advanced Regenerative Manufacturing Institute's BioFabUSA program
HATFIELD, Pa. (USA) — Brooks Instrument, a world leader in precision flow, pressure and vapor delivery solutions, has joined the Advanced Regenerative Manufacturing Institute (ARMI) and will be an active participant in the organization's BioFabUSA program.

ARMI is a member-based, nonprofit entity whose mission is to expand the bioeconomy of the United States. Through its programs, ARMI intends for its work to positively impact not only biomanufacturing but also healthcare. Within ARMI, the BioFabUSA program is focused on developing a highly diverse, competitive, capable and innovative cell, tissue and organ manufacturing ecosystem in the U.S.
Brooks Instrument offers advanced fluid measurement and control technologies used in life science applications. For example, the company's SLA 5800 Series Biotech and SLAMf mass flow controllers (MFC) are engineered specifically for the biotech industry.
Brooks Instrument joined the ARMI BioFabUSA program to contribute its expertise, product knowledge and experience in helping biotech equipment manufacturers control the flow of critical process materials and gasses to maximize yield when growing tissue.
The BioFabUSA public-private partnership has more than 170 members representing industry, academia, government and nonprofit organizations. Through this program, its members transform tissue engineering and regenerative medicine research into an industry that delivers tissues and organs to people in need.
"As a member of BioFabUSA, Brooks Instrument is looking forward to collaborating, sharing capabilities and delivering the flow control systems that are necessary for a scalable, consistent and cost-effective cell manufacturing supply chain," said Joseph Sipka, Business Development Director at Brooks Instrument.
Among several program initiatives, BioFabUSA features working groups where members can discuss challenges, explore innovations and give direction for the biofabrication industry.
Brooks Instrument has targeted the Cell Culture and Harvest Technology Working Group specifically as one area where it can help. This group has identified a development road map that comprises several topics in which Brooks Instrument has expertise, including:
• Tightening control over raw material
• Developing equipment and software that enable automation of manual or high-risk process steps
• Advance development of automation that augments the capabilities of technicians and operators while minimizing process variability and labor costs
For more information on Brooks Instrument's life sciences and biotechnology portfolio and capabilities, visit www.brooksinstrument.com/en/markets/life-sciences.
For more information on ARMI and BioFabUSA, visit www.armiusa.org.
About Brooks Instrument:
Since 1946, Brooks Instrument has been a leader in precision fluid measurement and control technology. Providing instrumentation for flow, pressure and vapor delivery, the company serves customers in biopharmaceutical and other high-tech industrial manufacturing and process industries.
With manufacturing, sales and service locations in the Americas, Europe and Asia, Brooks Instrument has the world's largest installed base of mass flow controllers. Its broad family of products includes the UNIT Instruments, Tylan and Celerity brands.
For more information, please visit www.BrooksInstrument.com. The company is also on LinkedIn (www.linkedin.com/company/Brooks-Instrument) and YouTube (www.youtube.com/user/Brooks407).
Featured Product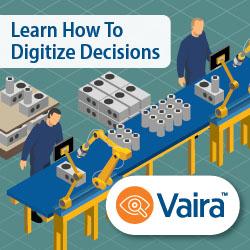 Vaira™ helps manufacturers digitize, automate, and upgrade error-prone manual processes and decisions to boost productivity and increase profits by helping humans make decisions consistent, reliable, and traceable. The camera-based solution is powered by a scalable suite of shop floor-ready apps built on proven machine vision and AI expertise for frontline manufacturing operations, with two-way integration to resource planning tools to help drive continuous analysis, insight, and improvements. Start digitizing immediately, streamlining processes customized to your unique requirements and reduce errors that lead to costs, delays, and quality concerns.