More flexibility in the surface finishing of additively manufactured components
To be more flexible in the surface finishing of additively manufactured components for prototypes and small series, Oerlikon Balzers, a technology brand of the Oerlikon Group, has purchased two M1 Basic systems from AM-Solutions for its laboratory in Liechtenstein. The all-round solution ensures high-quality surfaces, prior and after the coating process, with a result that can be reproduced at any time.

Oerlikon Balzers is a global provider of highly wear-resistant coatings that significantly improve the performance and service life of precision components, cutting and forming tools. The R&D department in Balzers, where thin-film coatings and future innovations are developed, has decided to equip its own laboratory with a system for the surface treatment - before and after coating - of conventional and additively manufactured components. Balzers' industrial PVD coatings are then applied to the components and tested on abrasion and wear in the laboratory. The choice fell on two M1 Basic systems from AM-Solutions.
Shorter response times and simplified process testing in a lab environment
Especially in R&D, tests to ensure the process reliability and robustness are required which often requires numerous tests to be carried out.
Oerlikon's production sites often have special customer requests and needs. It was therefore decided, that the R&D and Production Technologies department in Balzers also provides in-house surface finishing capabilities, such as the new M1 Basic systems, which help shorten project timelines.
System flexibility as an advantage
A decisive advantage of the M1 Basic used in Oerlikon's Lab is that it can be integrated completely flexibly into processes. It is extraordinarily compact and has an integrated process water circuit that allows it to be used independently of a fixed location. "The M1 Basic is a system that offers a wide range of surface treatment options and is also absolutely flexible in use. For example, the work area can be divided into different segments so that different processes can run on the machine at the same time," explains Simon Kresser, Project Engineer for mechanical pre- & post-treatment at Oerlikon. This allows different sample parts to be processed in one step. It is also possible to process components with different abrasives. For example, the surface can first be scrubbed and smoothed during a roughening step with aggressive media and is then finished to a high gloss with a fine polishing media.
The M1 Basic is also particularly user-friendly and is suitable for both individual parts and small batches. It has an intelligent controller and can be used as required thanks to the integrated software solution. To limit noise disturbance in laboratory, the M1 Basic works with a maximum of 78 decibels, only about as loud as a car.
www.solutions-for-am.com
About Oerlikon Surface Solutions Division
Oerlikon is a leading global provider of surface and additive manufacturing solutions and services. The division offers an extensive portfolio of market-leading thin-film, thermal spray and additive manufacturing technologies, equipment, components and materials. Emission reduction in transportation, maximized longevity and performance of tools and components, increased efficiency and intelligent materials are hallmarks of its leadership. Pioneering technology for decades, the division serves customers with standardized and customized solutions across a worldwide network of more than 170 sites in 37 countries.
With its technology brands - Oerlikon Balzers, Oerlikon Metco and Oerlikon AM - Oerlikon's Surface Solutions division focuses on technologies and services that improve and maximize performance, function, design, reliability and sustainability, which are innovative, game-changing advantages for customers in the automotive, aviation, tooling, general industries, luxury, medical, semiconductors, power generation and oil & gas markets.
The division is part of the publicly listed Oerlikon Group (SIX: OERL), headquartered in Switzerland, which has 12 000 employees and generated CHF 2.65 billion in revenue in 2021.
For further information: Innovative solutions with forward-thinking technologies | Oerlikon
For over 80 years, the privately owned Rösler Oberflächentechnik GmbH has been actively engaged in the field of surface preparation and surface finishing. As global market leader, we offer a comprehensive portfolio of equipment, consumables and services around the mass finishing and shot blasting technologies for a wide spectrum of different industries. Our range of about 15,000 consumables, developed in our Customer Experience Centers and laboratories located all over the world, specifically serves our customers for resolving their individual finishing needs. Under the brand name AM Solutions, we offer numerous equipment solutions and services in the area of additive manufacturing/3D printing. Last-but-not-least, as our central training center the Rösler Academy offers practical, hands-on seminars to the subjects mass finishing and shot blasting, lean management and additive manufacturing. Besides the German manufacturing locations in Untermerzbach/Memmelsdorf and Bad Staffelstein/Hausen the Rösler group has a global network of 15 locations and 150 sales agents.
For more information, please go to: www.rosler.com
Featured Product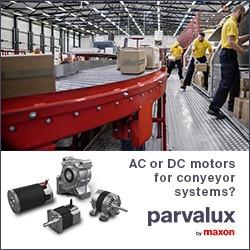 An effective, reliable and efficient drive system is essential to any material handling equipment, whether it's a motor-assisted tow truck, a barrel lifter, a robotic vehicle or a complete high-capacity parcel sorting hub; Parvalux designs and manufactures an exciting range of AC, DC brushless and brushed motors and our drives are valued for their performance and reliability.